TechCrunch decided today that they would catch up on all the recent Jailbreak related rumors and publish a big article essentially summing up the state of the iOS 6 Untethered Jailbreak. Although no new information was revealed in this article, TechCrunch did manage to get some interesting statistics on the number and types of devices Jailbroken within the last two months from Jay Freeman, aka @Saurik.
According to Freeman, based on data over the past two months, over 20 million devices (22,780,029 to be exact) have been seen running Cydia. With the iPhone 4 being the number one Jailbroken device and the iPhone 4S coming in second. It is important to keep in mind that these numbers are actually on the low end. Freeman says himself that "between the releases of jailbreaking tools, Cydia installs begins trending downwards, but when the next big jailbreak tool is goes out, the number of Cydia installs has always been more than the time before."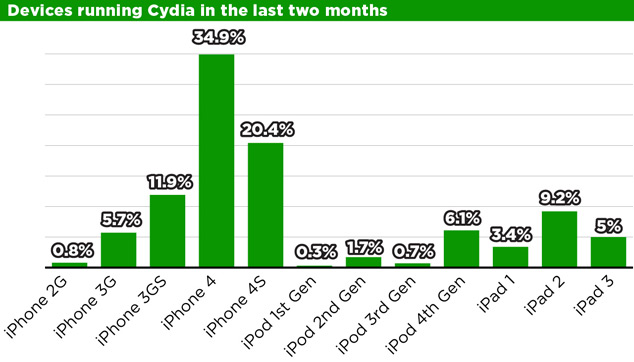 It is no wonder that every time a new Jailbreak is released there is a massive spike of renewed interest and thus these numbers sky rocket upwards. Freeman says however, "[when a new Jailbreak is release, the] spike is so large that the rate it falls over time swamps the rate of organic user accumulation, so the overall usage of jailbreaking is always going down."
Nevertheless it will be interesting to see the number of devices running Cydia after the iOS 6 Untethered Jailbreak is released, and with some good news being heard not too long ago, hopefully it will be sooner than you think when we ind out.