Gameloft's Wild Blood hit the iOS App Store in September and has seen a lot of success. Wild Blood was the first Gameloft title to use the amazing Unreal Engine that gave it great graphics, visual effects and animations. The game recently received an update, which brought along some new features that are worth pointing out.
Wild Blood is one of the best games currently available on the iOS App Store in terms. Version 1.0.3 brings about a new multiplayer mode called Juggernaut, where you're being hunted down by everyone else. When you are the Juggernaut you are more powerful than all the other players and you have special powers. Since this is a multiplayer mode, you can kill the Juggernaut to become him and so on. If you're bored of the same old Maps in the multiplayer mode, you can also try out the all new Haunted Castle map.
The update also brings 3 new weapons to help you destroy evil, namely the 'Excalibur Sword, Twin Axe Crystal Blades and the Reckoning Longbow'. Use the new weapons and the new King Arthur armor to your advantage. The King Arthur armor is only available when you're at level 15. The best new feature in this update however, is probably the support for Gameloft's Duo Gamer controller. If you haven't heard of this controller, then you most likely aren't an iOS gamer.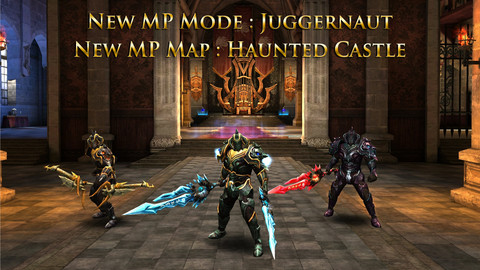 The Duo Gamer controller connects via Bluetooth and works with most Gameloft titles such as Asphalt 7, Modern Combat 3, N.O.V.A 3 and now Wild Blood. It works great, is Apple-approved and is (unfortunately) designed just for Gameloft titles. The controller has its faults, but you'll end up buying it anyway if you are a fan of Gameloft games.
The Duo Gamer controller is available for $39.99. Other than that, the Wild Blood version 1.0.3 update also gets an improved camera system and controls with a bunch of bug fixes as well. The game is available in the App Store for a price of $6.99. Grab it now!
Download Wild Blood for iPhone, iPod Touch and iPad [iTunes Link]