In case you haven't heard of WhatsApp Messenger yet, or haven't cared to, now is the time to educate yourself. WhatsApp is essentially an alternative way to send a standard text or multimedia message. You see, instead of sending this message over your cellular network, messages are sent using your data (3G or 4G LTE) or Wi-Fi. This obviously has some huge advantages, the biggest being when travelling, as you can avoid having to pay costly roaming fees by simply connecting to a Wi-Fi network.
WhatsApp Messenger is a cross platform application, that is popular to say the least. It is compatible with iOS, Android, BlackBerry and even Windows Phone. Speaking of Windows Phone, WhatsApp was recently updated to support Windows Phone 8. In version 2.8.8.0 WhatsApp is now compatible with brand new Windows 8 handsets like the Nokia Lumia 920 or HTC 8X. Besides Windows Phone 8 compatibility, nothing else is known about this minor update.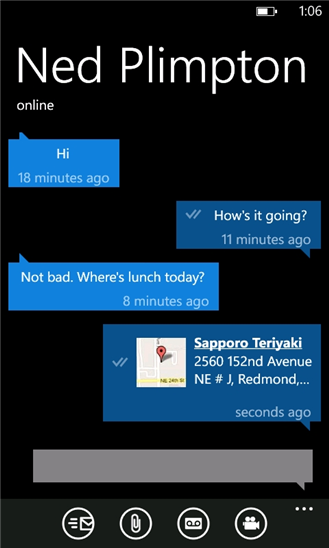 WhatsApp Messenger is a smartphone messenger available for Windows Phone, Android, BlackBerry, iPhone, and Nokia phones. WhatsApp uses your 3G or WiFi (when available) to message with friends and family. Switch from SMS to WhatsApp to send and receive messages, pictures, audio notes, and video messages. First year FREE! ($0.99/year after)
You can download the latest version of WhatsApp Messenger for Windows Phone 8 devices and any other device using the download links below.
Download WhatsApp Messenger for Windows Phone [Windows Phone Store Link]
Download WhatsApp Messenger for iOS [iTunes Link]
Download WhatsApp Messenger for Android [Google Play Store Link]
Let us know what you think of WhatsApp Messenger in the comments below.