Previously we have talked about the release of Vine for iOS on the 24th of January. Vine is an app that was created by Twitter to enable people to share 6-second looping videos on Facebook and its social network. Since its release, it has only been available for iPhone, iPod Touch and iPad but this hasn't hindered its rapid spread (the app quickly shot up to become the top free app in the App Store's social category only 24 hours after its release).
Sadly, the excitement of a new animated addition to Twitter won't be shared by all of us. Although Vine's official website promises its release on other platforms there are no signs, so far, of an Android launch in the near future. Nevertheless, there is a temporary solution for Android users wanting to sift through all the creative (and not so creative) material uploaded by Vine's community.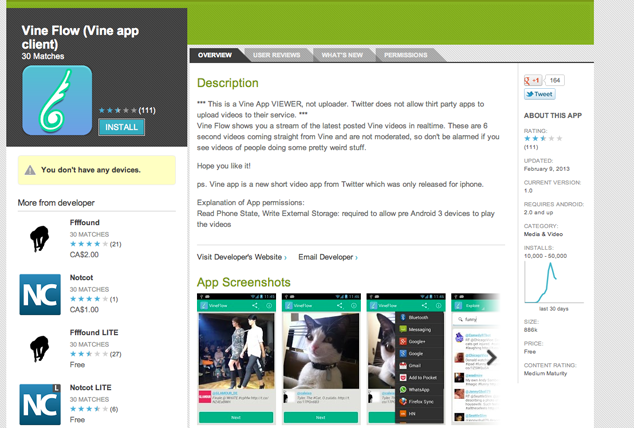 Vine Flow is the only app Android fans have at their disposal to watch videos on this thriving new social network. As it's an unofficial app, however, the option of uploading content has not yet been enabled (hang in there, guys!).
Android users can now watch the most recent videos uploaded to Vine and are also able to browse using hashtags to get related clips.
The free app has sprung assorted reviews: some mention unexpected crashes while others report a good performance. Results may vary depending on the smartphone, but with it being the only option available at the moment, it's worth a shot.
Download Vine Flow for Android [Play Link]