Popular instant messaging app Viber has finally received a new redesign for iOS 7. Seven months later and users on iOS 7 can now enjoy Viber without cursing its design. A lot of users on iOS 7 have been complaining about Viber's old design, well, it's finally time to relax and enjoy the new design. The new update brings iOS 7 style buttons and the familiar flattened interface to Viber.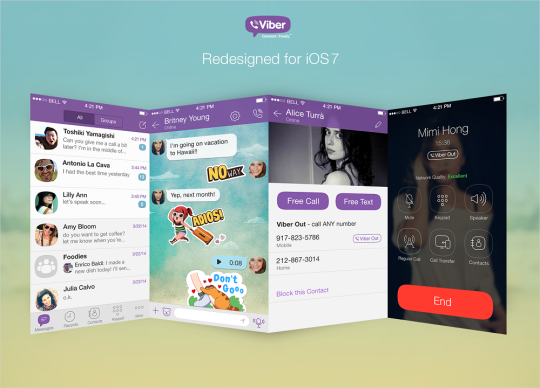 Viber 4.2 for iOS brings more than just a redesign. You can now send multiple (10) photos or videos at the same time and video messages can now be 3 minutes in length. The update also adds the ability to block numbers or contacts and also shows you when a contact is typing a message. Apart from that, there are other bug fixes.
The main feature, however, is the iOS 7 redesign. The previous version of Viber was so out dated that users preferred not using it. Viber has around 105 million users as of now and it was recently acquired by Japanese e-commerce giant Rakuten for $900 million. The app is mainly used for making free VoIP calls over the internet and also for sending free text messages with other users.
If you're already using Viber, you will be notified of version 4.2. Viber for iOS is available for free on the App Store.
Download Viber for iPhone, iPod Touch and iPad [iTunes link]