The iOS game starring Apple co-founder Steve Wozniak 'Vengeance: Woz with a Coz' is now available in the App Store. The game also features actor Danny Trejo from  the movie 'Machete'. It's time to make Thanksgiving more fun!
Vengeance: Woz with a Coz is an 8-bit iOS game that lets you either play as Steve Wozniak or Danny Trejo. This is the first ever iOS game to feature Steve Wozniak, so Apple and Woz fans must download this. The game is supposed to be a promotion for an upcoming movie titled 'Vengeance' starring Danny Trejo and has been developed by ITC Flix.
You get to fight bad guys as Steve Wozniak and Danny Trejo in a mission to rescue Wozniak's kidnapped wife J-Woz. The game's storyline has been written by Steve Woz himself, which is pretty cool. I never expected Woz to be a guy who likes to cause destruction and take down bad guys. Watch this video of Steve Wozniak talking about the game and asking you to buy it.
There's a lot of different weapons to choose from and plenty of bosses to take down. You can upgrade weapons and win bonuses by collecting 'crosses' throughout the game. Various other characters such as musician Baby Bash, MMA fighter Rashad Evans and other celebrities are also available in the game. Since this is an 8-bit game, it has an old-school look to it, which many iOS gamers will definitely love.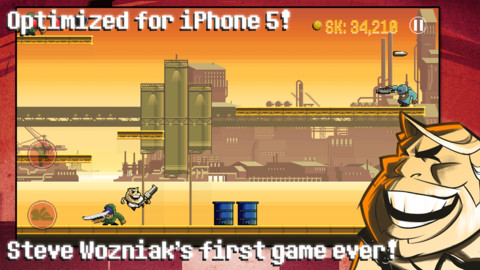 Vengeance: Woz with a Coz is currently available in the App Store for $0.99 and is iPhone 5 optimized. So get downloading folks and get ready to cause some destruction and take down them bad guys as Steve Wozniak. Let us know what you think of this game in the comments section. Sorry Android and Windows Phone 8 users, this game is only available for iOS as of now.
Download Vengeance: Woz with a Coz for iPhone, iPod Touch and iPad [iTunes Link]