If you're thinking that the Twitterrific app for the iPhone, iPad, and iPod Touch is due for an major update–you're not alone. According to a teaser on The Icon Factory's page for Twitterrific, a new version of the simple Twitter client will be coming out on December 6th. The developers haven't revealed any detailed information on the upcoming Twitterrific 5, aside from a short subtitle:
"Rethought and rebuilt from the ground up, tweeting has never been simpler, easier, or more delightful."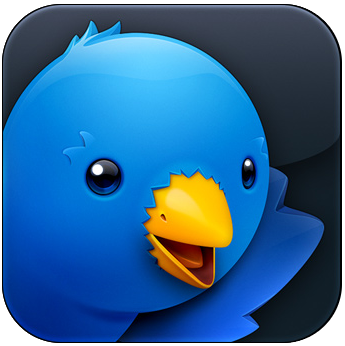 There's also a notice at the bottom of the page that suggests Twitterrific 5 will be the term for the iPhone/iPad twitter client, and not the Twitterrific Mac app of the same name. There's no word as to whether the desktop version will be getting a similar overhaul.
What sets Twitterrific apart from the other Twitter clients on iOS is Twitterrific's color-coded "All Tweets" timeline. The interface has retweets with green backgrounds, orange replies, and slightly orange-tinted mentions. It's not a bad interface, Twitterrific's charm is its simplicity and lack of clutter. So what changes and new features can Twitterrific 5 include that will enhance, or at least won't take away from its simplicity.
Keep in mind it already includes support for searches, conversation threads, follow/unfollow/block, filters for tweet type and trends, and built-in link shortening and exporting tweets by email. There are even premium features for managing multiple accounts, translating tweets, and removing advertising from the timeline.
Download Twitterrific for iPhone, iPad, and iPod Touch — FREE, $4.99 for premium features [iTunes App Store Link]
What would you do to improve Twitterrific? Share your thoughts in the comments section below.