Well folks it is finally here! We told you last week that Twitter was looking to launch a music app over the weekend, and while that didn't happen, Twitter has announced on their blog that the app called Twitter #music is now available to download. There is also a web application that will be opening later today.
So, just what is the Twitter Music app? Well, according to Twitter it is a new service that will change the way people find music, based on Twitter. Essentially, it is an application that Twitter wants you to use for your primary social music discovery tool.
[Twitter #music] uses Twitter activity, including Tweets and engagement, to detect and surface the most popular tracks and emerging artists. It also brings artists' music-related Twitter activity front and center: go to their profiles to see which music artists they follow and listen to songs by those artists. And, of course, you can tweet songs right from the app.
Twitter #music pulls songs from iTunes, Spotify and Rdio. When you listen to previews of songs they will be coming from iTunes, but if you are subscribed to Spotify or Rdio you can listed to the full song instantly. Twitter has mentioned that they will continue to explore and add other music service providers as time goes on.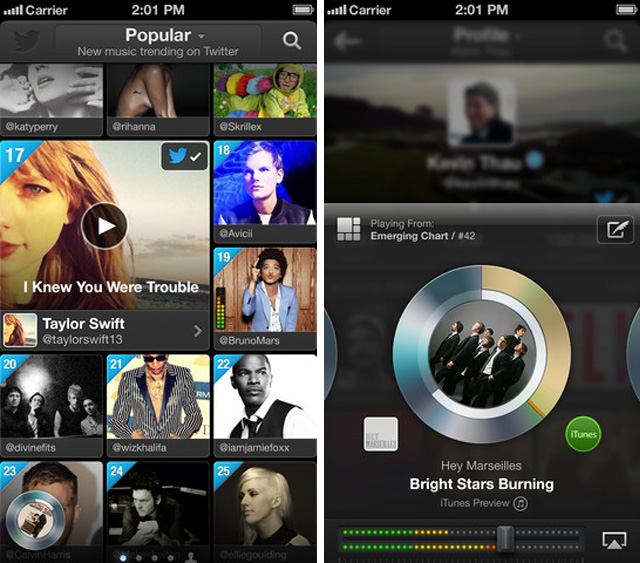 Through Twitter #music you will be able to find and follow artists, learn about the artists they follow, which will then lead you to discover more great tunes. By the screenshots that Twitter has provided we can see it has a checkerboard #NoPlaying interface that shows you what music people you follow are tweeting about, along with songs that the artists you follow are tweeting. Twitter has made it extremely easy for you to always know what is going on with your favourite artists and you can of course tweet songs right from the app.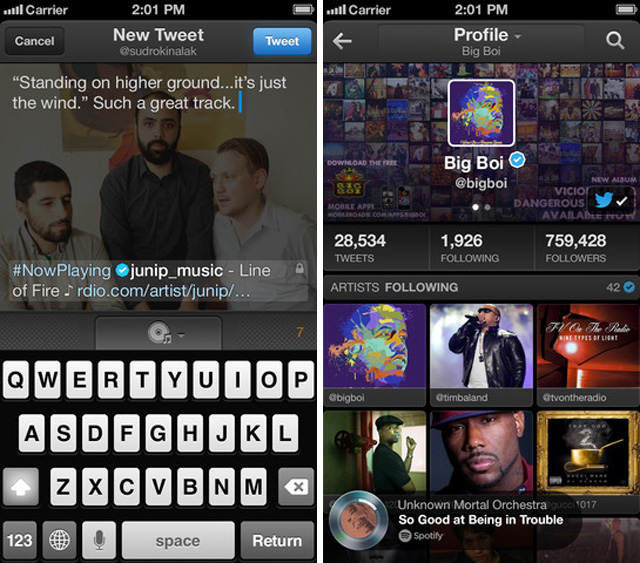 Right now the iTunes #music app is available to download in the Apple App Store for free in the following countries US, Canada, the UK, Ireland, Australia and New Zealand. Twitter mentioned it will be bringing the service to Android and more countries in the near future, and as we mentioned previously there is an official web application that can be accessed here.