As the year draws to a close, and we brace ourselves for some rousing New Years celebrations, pretty much every outlet and critic on the face of the planet is preparing their Best of 2012 lists. Some carry a little bit more weight than others, however, and today Apple released their list of 2012's best apps – surely one of the more influential end-of-year lists we'll see at this time of year. They've released best-of lists for both iTunes and the App Store, with their picks for not just apps, but a whole range of other media too.
Their iTunes list is full of their recommendations for this year's music, movies, and books, and has all manner of trite crap like bloody Mumford & Sons winning best rock album of the year. At the end of the day, Apple isn't exactly a renowned music critic, and we'd all due well to largely ignore their media recommendations.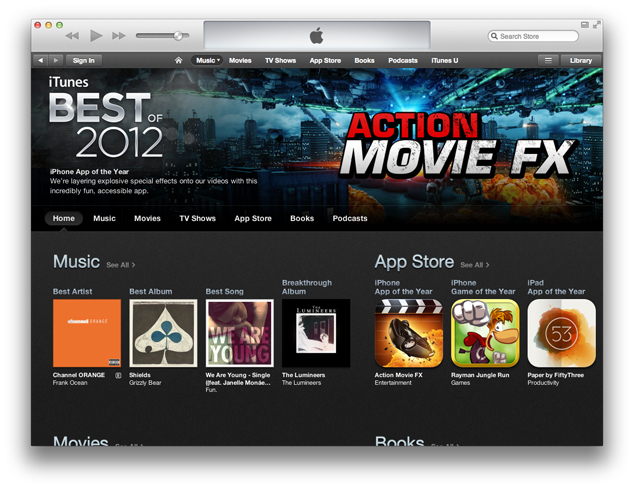 On the App Store side, though, Apple has a whole lot more clout when it comes to judging and rating apps. They're the foremost purveyor of fine mobile apps, and Apple employees take a look at just about every app that gets released on their platform, so they know their stuff when it comes to app quality. Their list of the top apps of 2012 contains some surprises, and some stuff that definitely isn't a surprise (we're looking at you, Angry Birds). It also contains a list of the best selling, most downloaded, and highest grossing apps this year, which is interesting data in and of itself.
Taking the App of the Year award is an app called Action Movie FX. The app lets you add explosions, car crashes, and other action movie tropes to your captured videos, and the results are pretty damn amusing. They've done a great job of making the cheesy special effects integrate into your videos in a way that looks somewhat convincing, and super funny to watch.
They also handed out a Game of the Year award, and that went to the Ubisoft developed platformer Rayman Jungle Run. The Rayman franchise is a long-running and often quite good series of games that's appeared on a number of different gaming platforms, and this most recent iOS entry in the series is no exception to the general rule of quality we've come to expect from Rayman games. Apple praises the game's tight controls, impressive graphics, and downright fun-ness. It's a $2.99 purchase from the App Store, and you'd be hard pressed to find a better use of your three bucks if you're looking for mobile gaming awesomeness.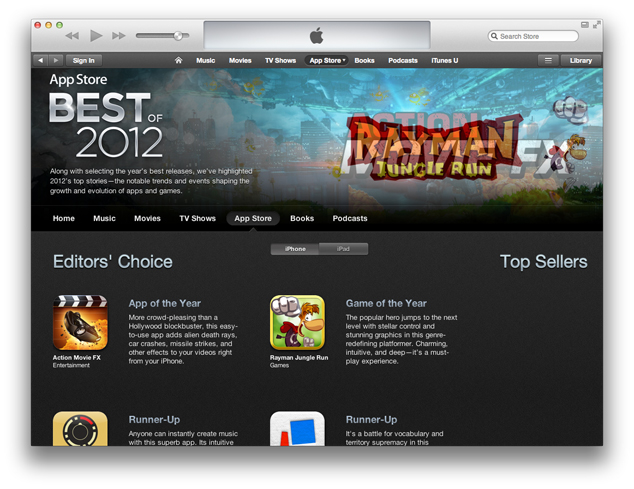 When it came down to hard numbers, neither of the aforementioned award-winning apps were the top of the heap this year, though. According to Apple, the best selling paid app of the year was WhatsApp Messenger, an instant messaging app that's apparently hugely popular. Angry Birds Space and Draw Something took the second and third spots. For free apps, the most downloaded software this year was YouTube, Instagram, and the free version of Draw Something; not a lot of surprises there.
We can't help but wonder how long it will take the new Google Maps app to smash the free download record that YouTube currently owns, but since the app has come out so late in the year, it won't make the list this time around. Maybe it'll win something in 2013…though we don't imagine Apple will be keen to hand out any of their Editor's Choice awards to their Android-making rivals.