TinyUmbrella, a tool that helps save iPhone, iPod Touch, iPad and Apple TV SHSH blobs regardless of whether your iDevice is jailbroken, has been updated to version 4.21.01. This new version allows you to save SHSH blobs for iOS 4.2.1 and fixes the Apple TV 4.2 SHSH issues.
In case you don't know what saving your SHSH Blobs actually does, it basically allows you to downgrade your firmware to a lower version. This is important if you accidentally update to a iOS/firmware version that cannot be jailbroken, as Apple prevents this otherwise.
NOTE: Do Not Update Your iPhone 4 Using TinyUmbrella [Your iPhone Will Go Into Recovery Mode]
Follow our step by step guides below to save your iPhone, iPod Touch, iPad and Apple TV SHSH blobs using TinyUmbrella: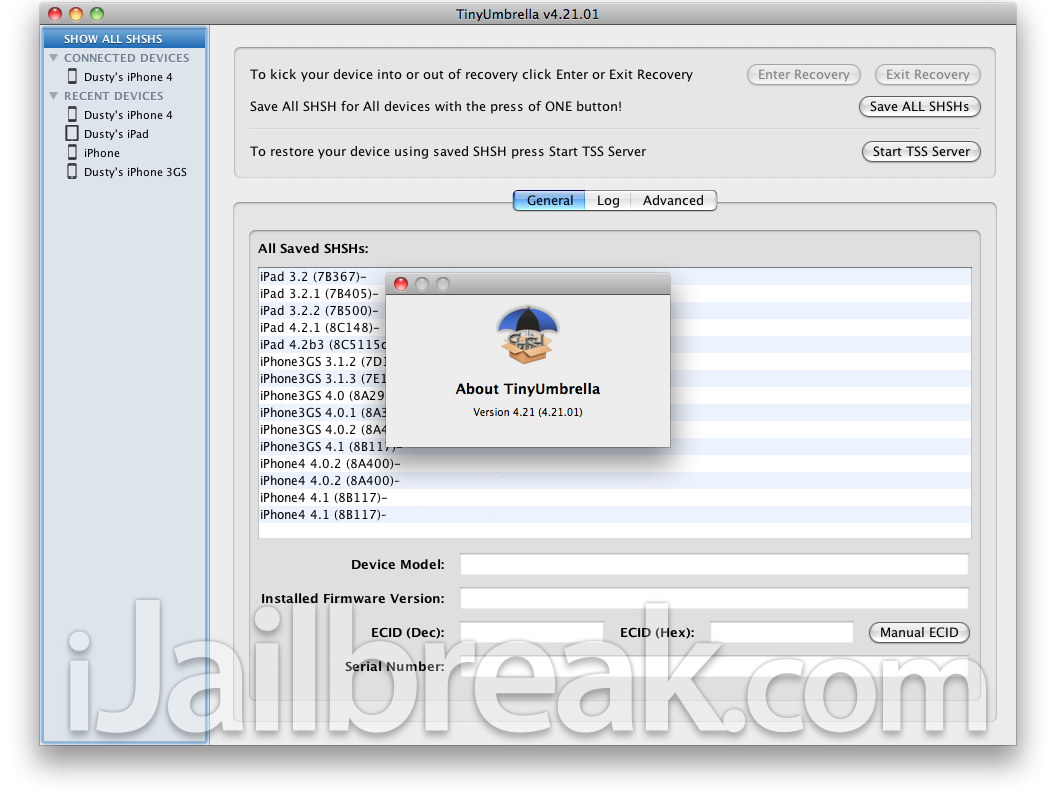 UPDATE: For those of you with Apple TV that were having issues saving 4.2 SHSH, I've fixed that bug with 4.21.01. Enjoy!

UPDATE: Do not update to 4.2.1 for the baseband protection. TinyUmbrella is no longer able to kick you out of recovery for that version. TinyUmbrella still works for prior versions and will be able to restore and kick you out of recovery for those versions but 4.2.1 has a baseband version check that will stop your device from booting if your baseband was not updated.
More information is available at TheFirmwareUmbrella.
Download v4.21.01: