TinyUmbrella has been updated to v4.00.49 and saves your SHSH blobs for iPhone 4 running iOS 4, iPhone 3GS, iPod Touch 2 (MC models) and iPod Touch 3.
Umbrella was used to back up your SHSH locally, and TinyTSS was used to call Saurik's server, during the restore process, to grab your SHSH for your firmware of choice. Notcom has released TinyUmbrella, which combines theses 2 programs in one.
How to: save your your SHSHs with TinyUmbrella 4.00.26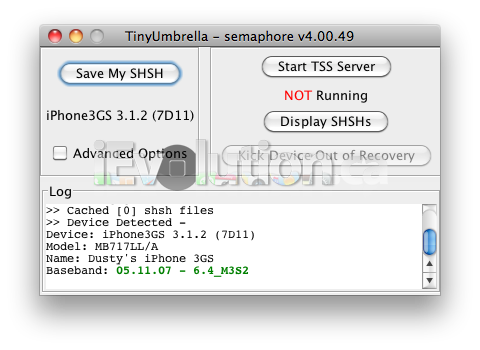 Changelog v4.00.49:
This is more of a debug build – If you are having issues with the device detection please run this build and feel free to private pastie the umbrella*.log (found in your home directory) file in the comments below.

Windows: \Documents and Settings\<username>\umbrella#.log
Windows 7 (and vista?): \Users\<username>\umbrella#.log
MAC: /Users/<username>/umbrella#.log

No worries the data is 4096 RSA encrypted even if you tell the world the data in the log no one will be able to decrypt it but me.
Yes there is some device data in the log its effectively everything you tell iTunes and I already have access to anyway. The only purpose for it is to help figure out how the device detection is breaking.
Download v4.00.49: