Developer Notcom has updated TinyUmbrella to v4.00.45. TinyUmbrella is an application that saves your SHSH for iPhone 4, iPhone 3GS, iPod Touch 2 (MC models) and iPod Touch 3.
Umbrella was used to back up your SHSH locally, and TinyTSS was used to call Saurik's server, during the restore process, to grab your SHSH for your firmware of choice. Notcom has released TinyUmbrella, which combines theses 2 programs in one.
How to: save your your SHSHs with TinyUmbrella 4.00.26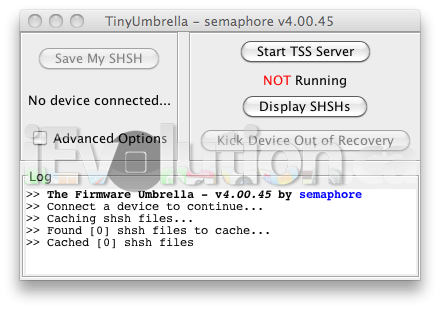 Changelog:
4.00.45: Well that was fun…
Ok so I've finally narrowed down the issues with detection.
I've also found that Windows 'Kick out of recovery' isn't working quite yet… (Use irecovery for now as I'm fixing this)
4.00.31: I've updated the ReadMe. It now answers most questions.
Fixed more device detection.
Cleaned up some code.
Download TinyUmbrella v4.00.45: