Knowing how many days you have available to book off from your one job, or numerous jobs is important. Knowing how many "sick" days you can squeeze out, or vacation days rollover to the next year. While some of us are proficient when it comes to remembering when we used one, and how many we have, others are not as talented, that is where Time Off comes in handy. With its ability to organize several different types of time off requests, combined with report exporting tools and an easy to navigate interface, this could be the app for you then.
In order for an app like this to be, in my opinion, successful, it has to be able to show you quickly the number of time offs currently being used, and left in a very easy to read and identify manner. Time Off has done that quite well, using a colour coding system for the different types of time offs such as sick, vacation, personal, and others. Users are able to customize each with a different colour.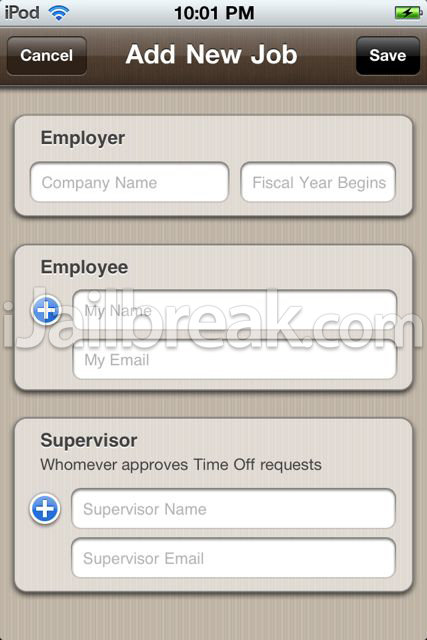 The user also has the ability to add different jobs, as these days many people have more than just one employer and we need to be able to keep track of numerous time offs. During the job setup process you add the name of the employer, name of yourself, and your supervisor, including their email address. It prompts you for your supervisor's email address as the app can generate a time off request for you, which can be emailed directly within this app to your supervisor for the different types of time offs you may request.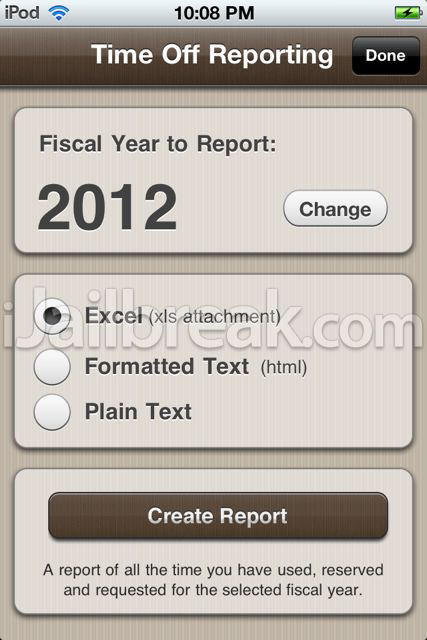 In addition to being able to ask your supervisor for the time off of your choice, Time Off also has the ability to export your time off report in popular formats including text and Excel. While I did find the appearance of the plain and formatted text options to be pretty plain, that is what they are suppose to be like.
After putting in the time offs that you want either via the in app email or if it has been pre-authorized by your supervisor you can view all of the current, and past time offs in each category. While I found this was a nice feature, I found how the dates of the time offs a little difficult to read, as they did not pop out as much as I would like them to have. The dates of the time offs are probably the most important reason for checking the time offs anyways.
Pros
With the easy to read collection of the different types of time off requests, coupled with the ability to define such details as the amount of rollover days
Color coding different time off types
Being able to export formatted time off reports
Very easy to set up and maintain
Easy to use in-app email for time off requests
Cons
Date difficult to read on listings of past and current time off requests
Some menus are seemingly hidden in the application, making it a little difficult to get to certain functions
Wish there was an integrated calendar
Overall
Time Off combines easy to use interface, with a great color coding system to deliver a must of an app for any person wanting to manage their time offs. The ability to export a year's report of time offs, with the in-app emailing function for requesting time off makes this a very practical approach to handling any time off management. While some menus are hidden within the application a little, majority are clearly labelled and have large enough icons to easily manoeuvre and interact with. With the combination of great features, and a level of practicality that is required for professional level applications, I give Time Off a rating of 9/10.
This is a universal app available for the Apple iPod Touch, iPhone and iPad. You can grab this normally $1.99 application for free by clicking on the link below.
Download Time Off for iPhone, iPod Touch and iPad (iTunes link)