Samsung introduced several "Smart" features with the Galaxy S3, back in May 29, last year. These include "stay", where the screen maintains a bright display as long as you're looking at it, and "alert", a vibrating nudge that lets you know that you have missed calls or messages when you have been away from the phone.
Now, with the Galaxy S4 – set to be released by the end of April – the South Korean company is launching new eye-tracking functionalities like "smart scroll" and "smart pause".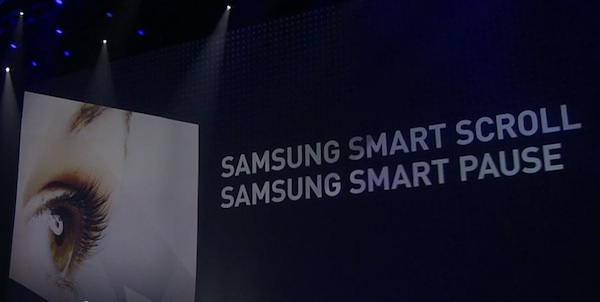 The good news for Apple users is that there's a new app that brings the latter feature to the iPhone, iPad and iPod Touch. I'm talking about LookAway Player, an app that takes advantage of Apple's built-in eye-tracking system.
Powered by Cube26, LookAway Player lets you watch YouTube videos and pause them without pressing a button, making use of the device's front facing camera. This is how it works: after you download and install LookAway Player, you will be presented with the most trending YouTube videos, a search tab and the settings.
In the settings option, you can increase or reduce the sensitivity of both the eye-tracking system and the "Shh!" feature – one that lets you mute the app by putting your finger to your lips. Watch a video and look away to stop. To continue watching, focus your sight on the front camera of the device. The main problem in the Galaxy S3 is that this type of feature drains the battery, but as far as I can tell, this doesn't happen on iOS.
LookAway Player supports iPhone 4S and iPad 2, or above. You can download LookAway Player for free from the App Store and make sure you let us know your thoughts in the comment section.
Do you find LookAway Player useful? Would you like to see this as a native iOS feature?
Download LookAway Player for iPhone, iPod Touch and iPad [iTunes Link]