Finally, one of the most awaited titles from Gameloft, is now available on your iPhone, iPod Touch and iPad. A few weeks ago, Gameloft teased us with a trailer for The Amazing Spider-Man that impressed us all. Now, it's official and available for download in the App Store.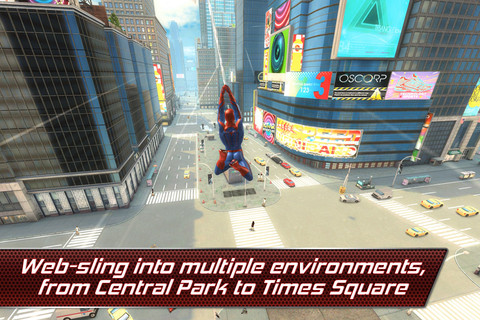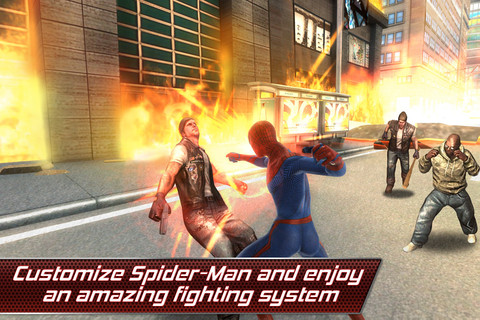 Based on the upcoming Amazing Spider-Man movie, this game will surely get you ready for the blockbuster. You play as the Spiderman in more than 25 missions based on the movies storyline. The main mission of the game, however, is to defeat the evil Lizard and fight off other enemies. The game is based in New York, just as the movie and you also get to free-roam the city to find more challenges and collectibles. Amazing Spider-Man the game, has intense graphics and a very realistic looking Spidey in a 3D New York City.
Get ready for intense web-slinging action with the Amazing Spider-Man! Join Spidey in the official game app of this highly anticipated 2012 blockbuster! Play through the movie storyline as Spider-Man faces off against the Lizard and rampaging gangs. Web-sling and crawl your way through an open, fully 3D New York while using your amazing skills to save the city.
Mostly, a Spiderman game is all about swinging through the city, looking around and chilling. Well, at least that's what a superhero with great powers should do. Of course, fighting once in a while using melee, combo attack, web attacks is required too. All in all, the game looks pretty interesting, but I'm afraid that it'll get boring once the missions are all done. The Amazing Spider-Man is currently available in the App Store for $6.99. Try it out and tell us what you think of it.
Download The Amazing Spider-Man app for iPhone, iPod Touch and iPad [iTunes Link]