In September Google acquired the company Nik Software that made Snapseed for iOS. It was clear that the search engine giant would bring the Photo editing app to Android devices. Earlier this week, Google released Snapseed for Android and made it available for all devices running Android 4.0 and above.  
Snapseed was quite famous and still is one of the best photo editing apps on the Apple iPad. It was also named the iPad App of the Year 2011 by Apple. It's easy to use and has tablet specific features, which is what makes it one of the best photo editing apps out there. Now, thanks to Google, Android users too can enjoy Snapseed on their Ice Cream Sandwich devices.
The app has a lot of easy to use tools such as Auto Correct, Tune Image, Selective Adjust, Image Borders etc. You can use filters like Drama, Vintage, Grunge, and Tilt-Shift to make your photos look different and better. Once you're done editing the photos, you can share them on Google+ and email them. The Android version only works on devices running Ice Cream Sandwich and above. Yes, it is very similar to Instagram and has lot of features in common.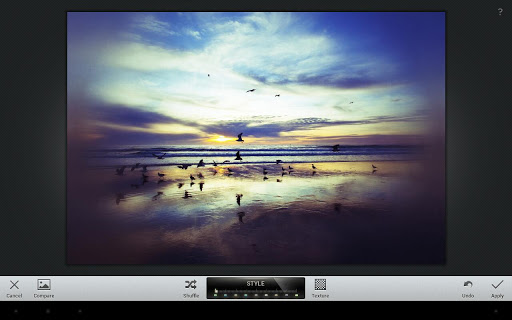 Snapseed for Android is available for free on the Play Store, the iOS version has also gone free. The app also gets a brand new icon, similar in fashion to other Google logos. The iOS app also gets some new filters, Google+ sharing and other updates. Do you use Snapseed to edit your photos on your iPad? Have you been waiting for an Android version?
Download Snapseed for Android [Play Store Link]
Download Snapseed for iPad [iTunes link]