Your favorite video and voice calling app, Skype, has been updated for the iPad. The Skype for iPad app recently received a new update that brought along some new features to the app. With Skype 4.5, you get automatic call-reconnecting, the ability to add money from within the app and a new sidebar.
Microsoft has been doing a very good job with the Skype app for iOS. They have released timely updates for both the iPhone and the iPad apps. The latest update to Skype for iPad, brings a couple of new and useful features as mentioned earlier. The update is only for the iPad app, the iPhone and Android apps haven't been updated. Firstly, in Skype for iPad version 4.5, you get automatic call-reconnecting. This means that whenever your call is dropped due to a bad internet connection (Wi-Fi or Cellular), Skype will automatically reconnect that call.
Second, you can add Skype credits from within the app itself. You don't have to open the desktop app to add money to your Skype account, just use the app. However, this isn't a worldwide feature as of now, and is only available in the UK, US, France, Estonia and Sweden.
And lastly, Skype for iPad now gets a new recent conversations sidebar, that can be accessed by swiping right from the left side of the app. What Microsoft has done is removed the always visible sidebar, which was much more useful, and hidden it away. I think it would've been better if they had kept it the way it was. It can get annoying to swipe every time you want to see an ongoing chat. They're also claiming to have fixed the issue where chats did not appear in the correct order.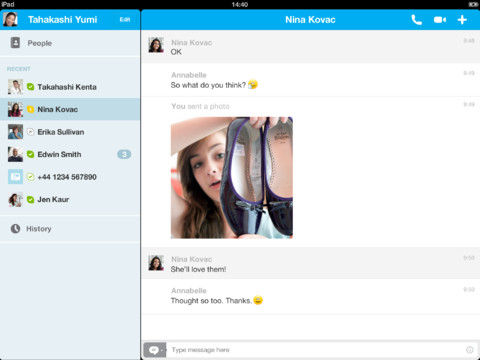 Overall, this is a nice little update and a much needed one, especially the first two features. Skype for iPad version 4.5 is available in the App Store for free.
Download Skype for iPad [iTunes link]