Say you are on your computer, writing a Word document, and you want to carry on working on your iPhone or iPad. You can either send the file to your email account, or copy and paste the text on a Pages document that iCloud synchronizes automatically, and continue typing there. Or what if you want to have the same photograph on all your devices? You either use Photo Streaming or, again, an email account to work as the middleman.
The process of sharing files between Apple products is kind of complicated and difficult, to say the least – sometimes iCloud doesn't get things right and, if you send everything you want to your email address, your account will get cluttered really quickly. Plus, Apple doesn't let you share all kinds of documents.
Well, you don't have to worry anymore: Instashare is here to make everything easy (as it should be).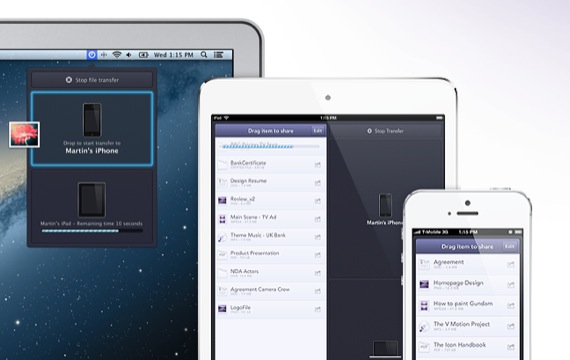 Instashare is a free tool available on the App Store and the Mac App Store, that lets you – as implied by its name – share everything instantly between your Apple desktop computer and your mobile device.
After you have the app open on both platforms, you just have to grab a file and drop it on Instashare (you will find Instashare's icon on the upper-right menu of your Mac).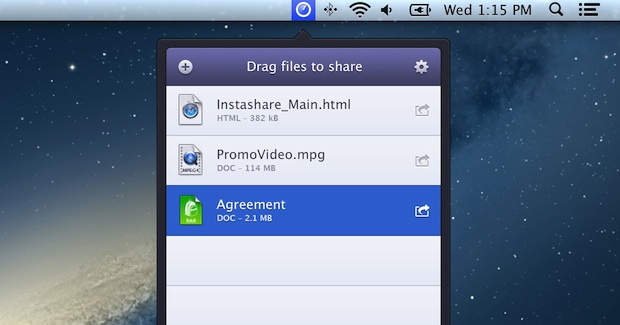 It works both ways: on your iPhone, hold a photo and drop it onto the nearest Mac. Instashare is more flexible when it comes to transferring files between a Mac and an iPhone/iPad – you can share songs, documents, movies, etc. Drag and drop onto your computer and accept the files on your iDevices.
At the moment Instashare is only available for Apple products and neither app will cost you a thing. Have you tried Instashare? Do you like it? Let us know in the comment section below.
Download Instashare for iPhone, iPad and iPod Touch [iTunes App Store Link]
Download Instashare for Mac [Direct Link]