SEGA Releases Sonic Dash For iPhone, iPod Touch And iPad
You can run around and jump over things as Sonic the Hedgehog in SEGA's latest iOS game, Sonic Dash. Yes, the game has finally been released for iPhone, iPod Touch and iPad and is available in the App Store. Well, it was actually released 3 days ago, but since today is Sunday, we thought it would be a nice day to download and try it out.
Sonic Dash for iOS follows the same route as Temple Run, Subway Surfers etc. in terms of gameplay. You have the same endless runner scenario, with obstacles to jump over, rings to collect and power-ups to use. If you've already finished playing Sonic Jump, then this title should keep you happy for a while.
Apart from obstacles to jump over or roll under, you'll find Sonic's enemies throughout the game, who can be dealt with, with his homing attacks. You'll find the environment, Seaside Hill, quite familiar if you happen to be a Sonic fan, but that's all the environments you're going to get in this game.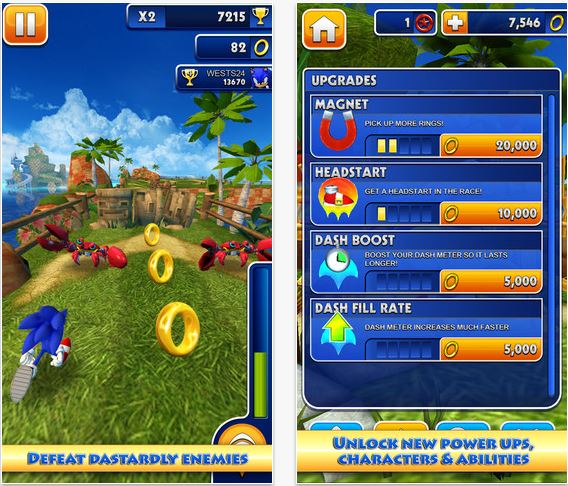 Use Sonic's dash ability, that can be unlocked with rings, to blast through everything in your path.
The game has pretty good graphics, similar to the new Temple Run 2 title. If you get bored of playing as Sonic, you can choose to be Tails, Knuckles or Amy. However, you will need to purchase a lot of coins to gain power-ups or play as those characters, which only means in-app purchases. Check out the release trailer for Sonic Dash below:
Sonic Dash is available in the App Store for $1.99. For that price, you would really expect the game to give you more, but unfortunately it lets you down. SEGA has also promised to provide timely new updates for the game.
Download Sonic Dash for iPhone, iPod Touch and iPad [iTunes link]
Make sure you stay subscribed through our social media feeds, so that you never miss a beat, by liking us on Facebook, following us on Twitter and joining our circle on Google+.
Hey, you! Join the iJailbreak Insider for weekly newsletters, Jailbreak alerts, contests and more. (No spam, we promise)