A developer known as "Notcom", has released a couple of tools in the past, to help with downgrading your firmware on your iPhone 3GS and iPod Touch 3rd gen. Umbrella was used to back up your SHSH locally, and TinyTSS was used to call Saurik's server, during the restore process, to grab your SHSH for your firmware of choice. Notcom has released TinyUmbrella, which combines theses 2 programs in one.
TinyUmbrella v 4.00.26 now supports ALL devices running iOS 4, including iPhone 4. With rumours of an update to iOS4 coming very soon, to fix the "death grip" issue, is is important to make sure your SHSHs for iOS 4 are backed up, of you will have trouble with restoring to a previous and/or custom firmware in the future. This version also includes a "Kick out of recovery mode" button, for times when your baseband is newer than your firmware, and you get the 1015 error after restore.
TinyUmbrella 4.00.26 is available for Mac and Windows and works with iTunes 9.0 and up. Your device does NOT need to be jailbroken to save your SHSH.
– Open TinyUmbrella and connect your device.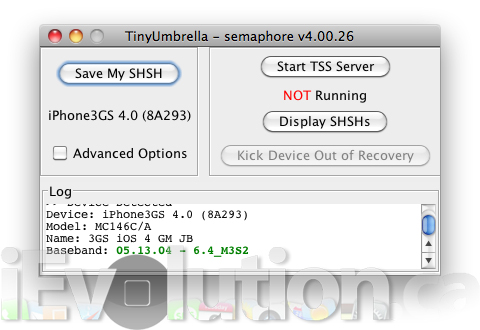 – You can go into Advanced Settings, to manually select your device and where you want to save your SHSHs.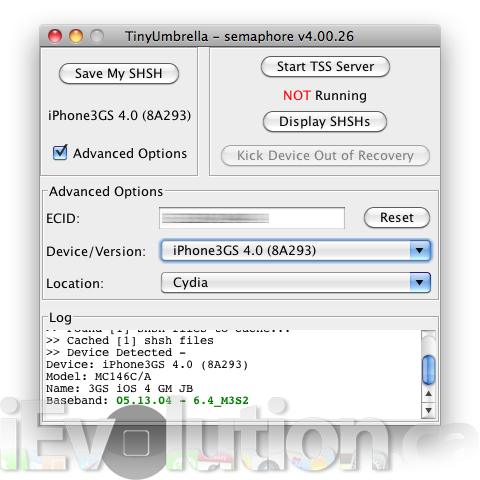 – Then simply click "Save My SHSH", and TinyUmbrella automatically grans your SHSH and uploads it to Saurik's server.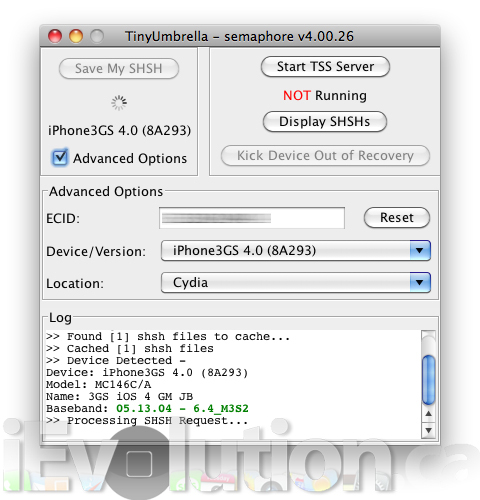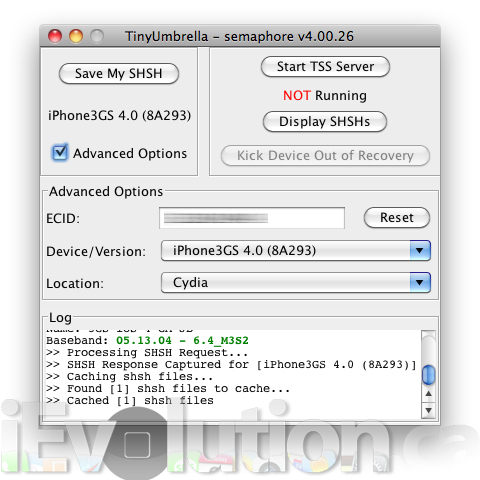 – Then, when you need to restore, click the "Start TSS Server" button, and it will make iTunes call Saurik's server, instead of Apple, to grab the signature for whatever firmware you're installing.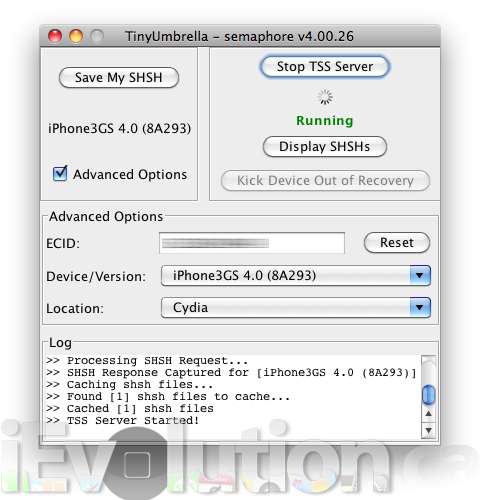 Once the restore is complete, you will most likely have a 10XX error. Specifically, iPhone 4 will give you a 1004 error, and if your baseband doesn't match your firmware, you'll get a 1014 or 1015 error. If you get one of these errors, your device will be stuck in recovery mode. Simply click the "Kick Device Out of Recovery" and your device will reboot to the lockscreen, or activation screen, depending on the firmware you're using for restore.
This won't show up in Cydia right away. Give Saurik some time update Cydia to show iOS 4 SHSHs. If you click the "Display SHSHs" button, you'll see what has been backed up.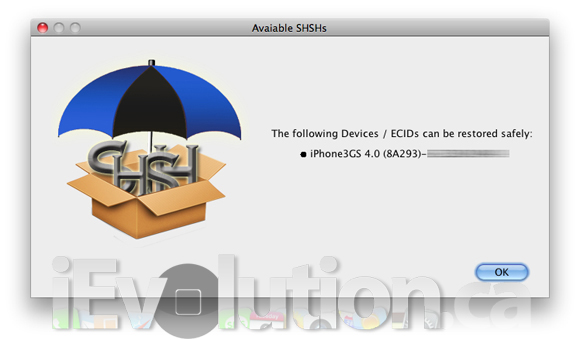 If you are on iOS 4 now, we suggest you get your SHSHs backed up, even if you're not jailbroken yet. It is rumoured that an update is coming soon, and iOS 4 will stop being signed at the time.