Rovio has had a phenomenal year to say the least. The company released two highly successful titles such as Bad Piggies and Amazing Alex and just last week it was announced that an Angry Birds movie would be coming in 2016. To celebrate Rovio's amazing year the company has decided to thank its fans by offering all Rovio HD titles for Android and iOS at a special price this weekend – $0.99.
Rovio very rarely discounts its games and as such you should jump on this sale before it is over.
Now is the chance to start your christmas shopping early and add Bad Piggies to your collection of Angry Birds games, to give Amazing Alex a try or to check out Angry Birds Star Wars' bedazzling graphics on your tablet.

Don't miss out on this great opportunity to treat your loved ones (or yourself!) to our complete selection of titles and download now to enjoy our amazing Christmas prices.

Be quick, sale ends December 17!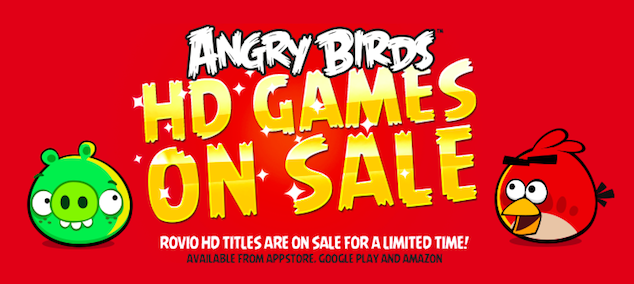 What are you waiting for? This holiday season you are going to have more time on your hands, so why not prepare yourself by stocking up on some good ol' Android or iOS games from Rovio.
Download Angry Birds HD [iTunes Link]
Download Angry Birds Star Wars HD [iTunes Link]
Download Angry Birds Seasons HD [iTunes Link]
Download Angry Birds Space HD [iTunes Link]
Download Angry Birds RIO HD [iTunes Link]
Download Bad Piggies HD [iTunes Link]
Download Amazing Alex HD [iTunes Link]
Let us know which games you bought in the comments section below.