Rovio's Bad Piggies Now Available For Download On iOS, Mac And Android
After Amazing Alex, it's time for those pigs from Angry Birds to have some fun and learn how to fly. Bad Piggies, the new title from Rovio, has finally arrived on the iOS App Store, Mac App Store and the Google Play Store. The game is similar to Angry Birds, but you'll be playing as the pigs instead and it surely is a lot of fun.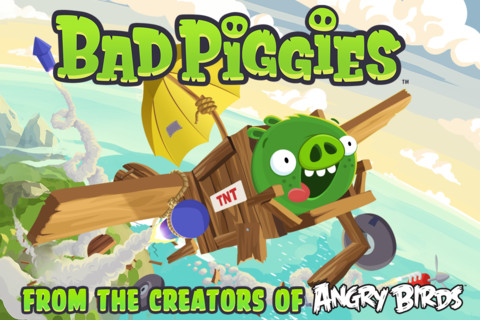 Bad Piggies has been teased by Rovio a lot, with screenshots, teasers and recently a game-play trailer. There are no slingshots, but vehicles that will help the piggies move, jump and fly to their target. You have to build vehicles so as to transport the Bad Piggies and help them steal eggs.
The Bad Piggies are after the eggs again — but as usual, nothing is going according to plan! Can you create the ultimate flying machine and steer them safely to their destination? Those tricky pigs have a few objects they can use, but they need your help to turn these into the perfect transportation!
The game is really fun and is definitely a good refreshment in the Angry Birds series.
Use up to 33 objects to create the perfect and most creative pig transport vehicle and unlock cool new levels. There are about 60 levels in the current release, but more will be coming with updates. Also, collecting all the stars and skulls will unlock 30 secret levels and other difficult sandbox levels.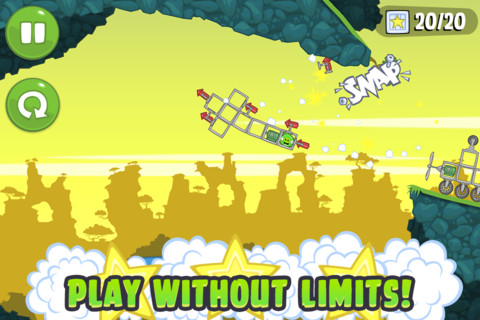 If you can't build something, you can always get help from Mechanic Pig, whose builds can again be tweaked for better results. Currently, Bad Piggies is only available for iOS, Android and Mac. Support for PC and Windows Phone devices should be available soon. Bad Piggies for Android is free, whereas on the iOS App Store it costs $0.99 and the Mac version costs $4.99. A HD version for the Apple iPad will set you back by $2.99.
Download Bad Piggies for iPhone and iPod Touch [iTunes Link]
Download Bad Piggies HD for iPad [iTunes Link]
Download Bad Piggies for Mac [Mac App Store]
Download Bad Piggies for Android [Google Play Store]
Let us know what you think of Rovio's next hit in the comments section.
Make sure you stay subscribed through our social media feeds, so that you never miss a beat, by liking us on Facebook, following us on Twitter and joining our circle on Google+.
Hey, you! Join the iJailbreak Insider for weekly newsletters, Jailbreak alerts, contests and more. (No spam, we promise)