Rovio Releases New 'Flight In The Night Episode' For Bad Piggies
Rovio's Bad Piggies has been a great success for the Finnish developer. The game hit the No.1 spot on the U.S App Store in less than three hours after its launch. The game is only over a month old and is actually more fun than Angry Birds. You play as the pigs and your mission is to steal the eggs from the birds and escape by building vehicles. The developer has now released a new update for the iOS version of Bad Piggies.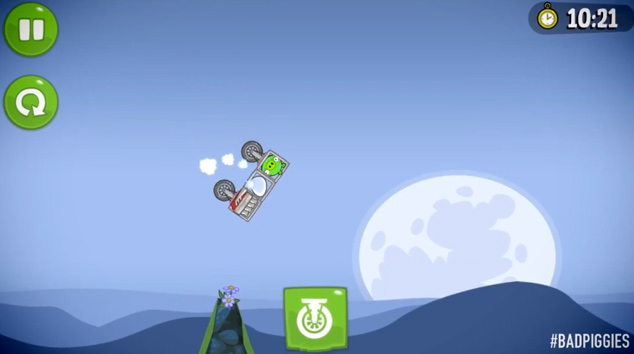 Bad Piggies 1.1.0 for iOS gets a new episode titled 'Flight In the Night', where you finally get hold of the eggs. However, them Angry Birds are right on your tail, so you have to escape, and soon.
The Bad piggies finally did it — they finally got the eggs! But can they hold on to them with the Angry Birds in hot pursuit? Even under the cover of darkness, they'll need all of their best machines to stay ahead! 
The new Flight in the Night episode has 15 new levels with a moonlit theme. There's also a new sandbox level 'Field of Dreams', which Rovio claims is the 'biggest sandbox level yet'. Of course, you'll have to purchase the level for $3 to actually play it.
Bad Piggies for iPhone, iPod Touch is available in the App Store for $0.99 and the iPad version for $2.99. Go get it now, if you like playing as the green Pigs!
Download Bad Piggies for iPhone, iPod Touch [iTunes Link]
Download Bad Piggies HD for iPad [iTunes Link]
Make sure you stay subscribed through our social media feeds, so that you never miss a beat, by liking us on Facebook, following us on Twitter and joining our circle on Google+.
Hey, you! Join the iJailbreak Insider for weekly newsletters, Jailbreak alerts, contests and more. (No spam, we promise)