It is an understatement to say that Rovio's Angry Birds franchise is a popular mobile game. In fact, Angry Birds Space reached a whopping 100 million downloads in less than 3 months. It looks like Rovio hopes to have success with another title besides Angry Birds though, as they are currently working on a brand new game called Amazing Alex. The Amazing Alex game will essentially be a physics puzzle game where you play as a whiz kid by the name of Alex who turns everything into an adventure.
Meet Amazing Alex! With his boundless imagination, this whiz kid turns everything into adventure! From cleaning his room to battling cardboard robots in his backyard, Alex creates amazing chain reactions to get the job done. Now he has some challenges for you! What's the most creative solution YOU can create? With 100 challenging levels, there's a whole world of creations to explore!
What is neat about Amazing Alex is that there is more than one answer to these ingenious puzzles, and you can share your solutions with your friends and also see how they solved a certain puzzle. Additionally, you can design and share your own levels using 35 interactive objects. Amazing Alex will be compatible with both iPhone, iPod Touch, iPad and Android devices.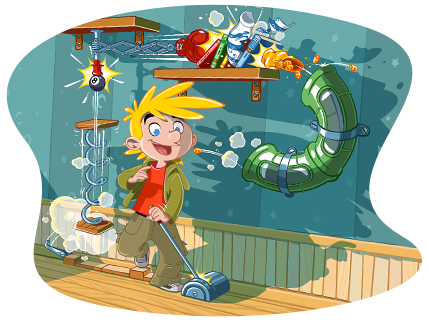 To keep up to date on everything Amazing Alex make sure you check out their official teaser page by clicking here. Before you go  however, check out the brand new teaser trailer for Amazing Alex below, and then share your thoughts about it in the comments section.