During Apple's September 1st keynote, it was announced that iOS 4.1 would be coming this week, for all compatible devices. It has some great new features, like Game Center and the HDR camera, for iPhone 4. It is a small update, but if you're like me, you like to keep up to date with the latest and greatest.
Although we don't know the exact date iOS 4.1 will be released, there were rumors that Sept 8th is launch day. The Apple website in the UK and Australia even had this date posted, at one point, but was later changed to say "Coming Soon".
For those of you who like your iPhone to be stock, you can go ahead and update, but for those of us who like to jailbreak or need to unlock, you'll want to avoid this update, for the time being. At this point in time, iOS 4.1 can not be jailbroken. Also, iOS 4.1 comes with a baseband update, and therefore, cannot be unlocked either. We have heard from the iPhone Dev Team that they are working on a jailbreak for the latest firmware, but there is no release date at this time.
This is why we say: IF YOU CARE ABOUT YOUR JAILBREAK/UNLOCK, DO NOT UPDATE RIGHT AWAY! Just wait for the new jailbreak tools (or whatever method happens to come along), so that you can keep all the awesome apps and themes that Apple won't let you have on YOUR device.
What you can do, is make sure you have your SHSH Blobs backed up in Cydia. This will ensure that you are able to downgrade your firmware, should you happen to accidentally update to the new firmware, or your devices crashes, forcing a restore. If you don't know if you're backed up, just open Cydia, and it will tell you right at the top of the screen.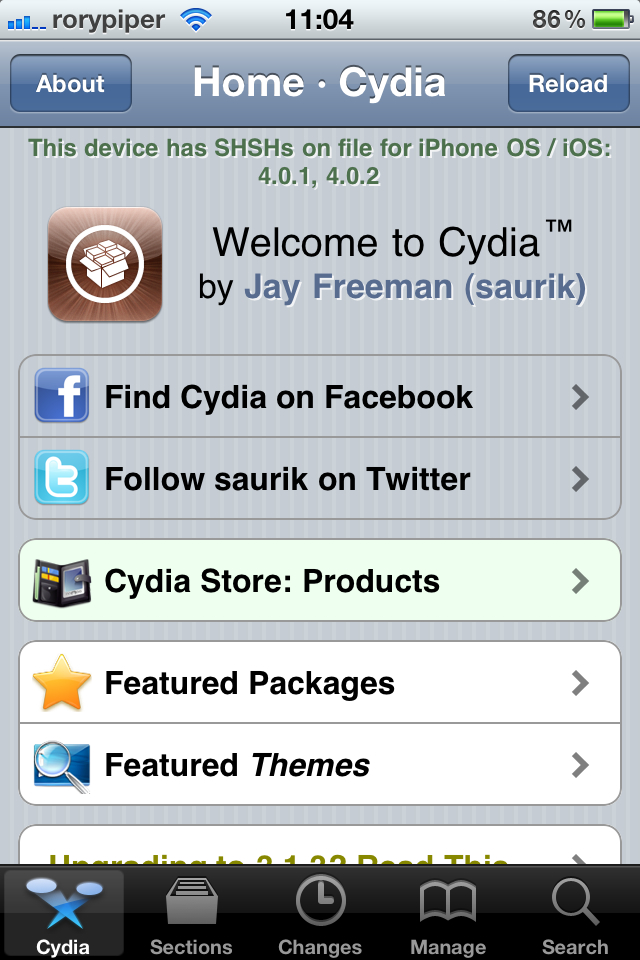 If you're not backed up, you can use an awesome piece of software called TinyUmbrella. It will back up your SHSH blobs right to Cydia for you. You can follow our tutorial here. rorypiper