It is no doubt that the RedSn0w jailbreaking tool has been around for awhile, and as RedSn0w aged it became used mostly for jailbreaking older iDevices like the iPodTouch 2G and iPhone 3G. Today however, the Dev-Team have renewed the RedSn0w jailbreaking tool to support almost all iDevices, and they have even managed to include some new features. RedSn0w 0.9.6b2 supports a variety of iDevices like the iPod Touch 2G, 3G, 4G, the iPhone 3G, 3GS, 4, the iPad and even the new Apple TV; all running up to the iOS4.1 firmware.  Have the dev-team revealed a new exploit in RedSn0w 0.9.6b2? No, they are using the same exploit that was used in Greenpois0n and Limera1n.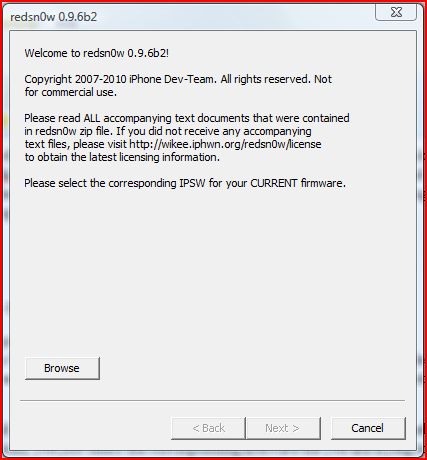 Besides updating RedSn0w to include the iDevices listed above, the Dev-Team have added a couple new features…
BootLogos: Custom bootlogos for iPhone3G/iPhone3GS/iPod2G users (with qualifying bootroms)
DFU button "PwnageTool": An option that implements the "DFU" button in PwnageTool.  This button (which you can use from Windows) lets you prepare your device for a custom DFU.  Even if you're purely a Windows user, you can get a trusted friend to run PwnageTool over your IPSW to create a custom IPSW.  You can now install that custom IPSW on your own Windows box, after you run this redsn0w version.
As you can see this new version of RedSn0w incorporate a lot of new and noteworthy features. If you want to jailbreak your iDevice with RedSn0w 0.9.6b2, simply click here to follow this detailed tutorial (The Steps are the same as previous RedSn0w versions, you just select the corresponding firmware file you are trying to jailbreak). Below are the download links for RedSn0w 0.9.6b2. Note: Right now only Windows and Mac operating systems are supported.
RedSn0w 0.9.6b2 OS X
RedSn0w 0.9.6b2 Windows
I will work on creating a new tutorial for RedSn0w 0.9.6b2 in the next couple days. Until then, are you going to use RedSn0w 0.9.6b2 to jailbreak your iDevice?