Two popular music streaming apps, namely Rdio and TuneIn Radio, received new updates recently. The Rdio app for iOS was released with a brand new design and new features. TuneIn Radio on the other hand, received plenty of bug fixes and improvements.
According to Rdio's blog, the new iOS app is much faster, sleeker and simpler to use. They've used elements from their desktop and their web applications to make the iOS app experience much better than before. In a way it has worked and Rdio has done a very good job with the new app. You get a unified experience, as in you can sync your music and songs that you're listening to, across all your devices.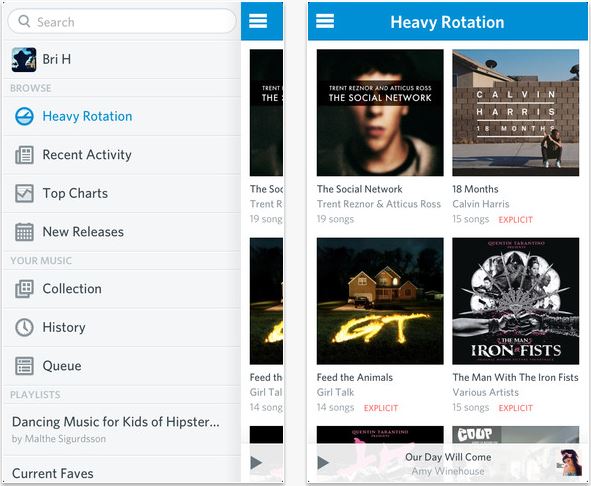 The new UI, simply put, is super clean. The navigation panel on the left side is very useful and something we've seen in a lot of other redesigned apps for iOS. If you've got music playing on another device, you can pause, skip etc. from your iOS device. Then there's the Infinite Scroll, which continues to load content as you scroll through Heavy Rotation, Top Charts, and New Releases.
TuneIn Radio, another popular music streaming and radio app for iOS, received some important bug fixes and improvements. This app is used by a lot of people and is also one of my favorite radio streaming apps on iOS.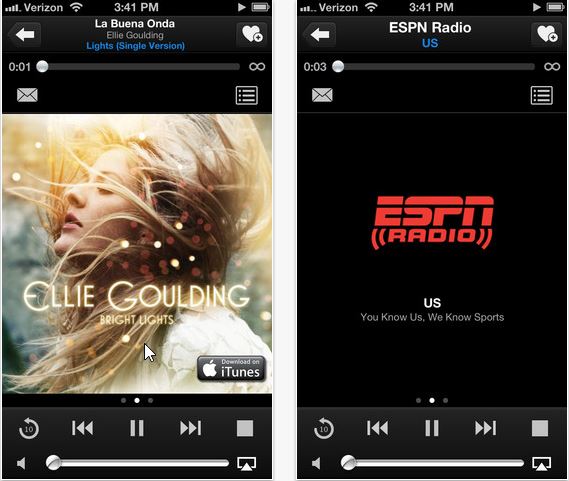 Most importantly the latest update to TuneIn Radio for iOS brings improved playing and seek experience for podcasts. The previous version of TuneIn had multitasking issues, which has now been fixed with the latest release. There is no more interruptions, stuttering etc. during playback and album artworks are now of high resolution. You can now also listen to most of the National Championship Football games during game time, under the Sports section.
Rdio is available for free in the App Store, so is TuneIn Radio. However, the Pro version of TuneIn Radio will cost you $0.99.
Download Rdio for iPhone, iPod Touch and iPad [iTunes Link]
Download TuneIn Radio for iPhone, iPod Touch and iPad [iTunes Link]
Download TuneIn Radio Pro for iPhone, iPod Touch and iPad [iTunes Link]