Pinterest, the social photo sharing service where you post and share pictures of things you like, is now available on the Apple iPad and Android devices. The official Pinterest app was first released for the iPhone, but now is also available on the iPad. Android users can also Pin stuff to their pinboard from their mobile and tablet devices.
The service recently went from 'invite only' to 'open for all' and now it has released apps for iPad and Android devices. Android users have been waiting for an app from quite some time and the iPhone app didn't work so well on the iPad. Now, both Android and iPad users can enjoy the all new Pinterest app on their devices. Pinterest for Android works across both mobile and tablet devices letting you easily pin things on to your profile. The iPad app is now completely optimized for the large screen and the Retina display, which means that you'll be able to see everything in beautiful colors.
When we think about what we're designing at Pinterest, we think about giving everyone a place to dream, plan, and prepare for the things in their lives. The Pinterest apps for iPhone, iPad, and Android are about enabling you to do just that, not seated in front of a computer or at the office, but wherever go as you live your life.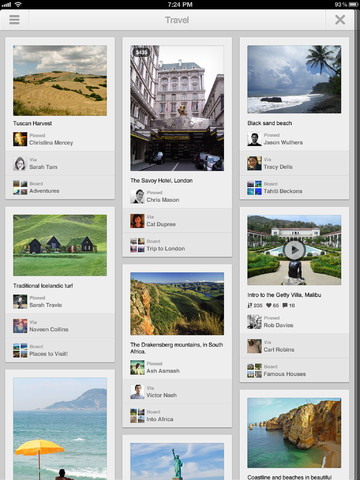 Pinterest version 2.0 for iPhone gets faster and has a new 2-column layout that lets you see more pins. Both Android and iOS apps have similar functions that let you pin/re-pin posts, follow users, browse etc. You can download Pinterest for Android from the Google Play Store and the iOS apps from the App Store.
Download Pinterest for iPhone and iPad [iTunes Link]
Download Pinterest for Android [Google Play Link]
Are you regular user of Pinterest? Did you like the app for iPhone and will you be using the Android app a lot? Let us know in the comments section.