Paper, the app that lets you create drawings, sketches, diagrams, illustrations and more recently hit 1.5 million downloads in the App Store. It's an amazing app for the iPad, if you're in to sketching and have artistic skills. The Paper app was released about 2 weeks ago and in such a short period of time, the app has also become the Top Free iPad app in the App Store.
The app is similar to iPhoto, but lets you do more and provides you with more editing tools and features. In the two weeks after its launch, the Paper app was used to create about 7 million new pages. That's a lot of new pages don't you think? The app even lets you share your drawings and sketches on your favorite social networks. FiftyThree, the developers of the app had this to say:
Two weeks ago, we released Paper into the world with the hope of creating a place where ideas can live and thrive. Since then, 1.5 million people have downloaded Paper from all over the world. Thank you.

To say the response has been overwhelming would be an understatement. For a tool that we made for ourselves, we're thrilled to find 1.5 million other like-minded creators out there.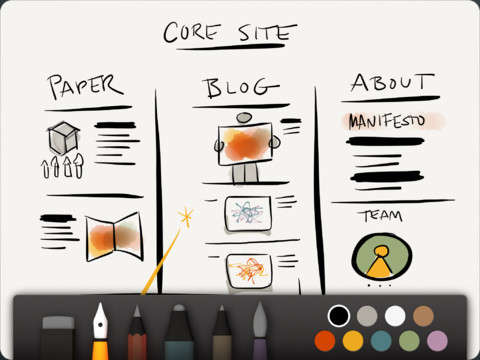 If you haven't tried Paper for iPad yet, then you can download it for free from the App Store. For extra brushes and tools, you can use in-app purchases to buy them.
Download Paper for iPad [iTunes link]