NCAA March Madness Live Hits The App Store And Android Market March 7, 2012 For Only $3.99!
Streaming live television is becoming extremely relevant in this day and age. With the help of mobile devices, streaming live television is becoming more and more attainable. Earlier this month, Verizon released an app allowing its customers to view SuperBowl XLVI live on the Verizon network via mobile phone devices. The Grammy Awards 2012 were also made available live through an iPhone, iPad, or iPod Touch app. Soon to follow, on March 7th, 2012, NCAA March Madness will be available to both the Apple App Store and Android Market for a one-time price of $3.99.
 NCAA March Madness Live™ is an interactive digital application that allows you to watch all 67 games of the 2012 NCAA Division I Men's Basketball Tournament live on your computer, iPhone ®, iPad ®, iPod Touch® or select Android® phones for only $3.99.  In addition, the application allows you to keep track of scores, schedules, the NCAA tournament bracket, social activity and much, much more.
Now, streaming all 67 games live from your Mac will be fee-free. You will also have the available option to watch each game live on one of the available paid TV networks: TBS, TNT, and TruTV.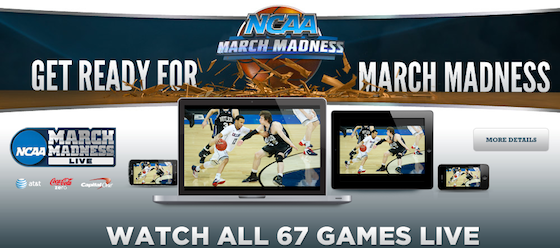 One of the great features following NCAA March Madness Live is that you wont have to worry about troublesome authentications across multiple devices.
Once you create a 2012 NCAA March Madness Live™ account, you will simply use your email and password to log in to any supported platform and access all the 2012 March Madness Live™ content.
To see a list of supported devices click here. From what I can tell, this is going to be a great way to watch March Madness 2012, and for the price it's a lot cheaper than subscribing to a cable or satellite bill. Head over to NCAA to find out even more and to stay up to date with the latest news on the release of NCAA March Madness app.
Leave your comments in the comment section below. Let me know what avenue your planning on watching March Madness this year. And always check out ijailbreak.com for the latest news, rumors, jailbreaking, and exploiting needs.
Make sure you stay subscribed through our social media feeds, so that you never miss a beat, by liking us on Facebook, following us on Twitter and joining our circle on Google+.
Hey, you! Join the iJailbreak Insider for weekly newsletters, Jailbreak alerts, contests and more. (No spam, we promise)