A major mobile analysts company, Flurry reports that iOS and Android have moved up and taken the number one spot for mobile gaming in their most recent report. With iPod Touches, iPhones, iPads, tablets and numerous phones all running iOS or Android and having application stores at their disposal, many other mobile gaming platforms have been squeezed out of the top ranking of usage.
Sony's PSP, and Nintendo DS lines have been the top competitors for years, however in Flurry's most recent report we see iOS and Android devices taking over the market with roughly 58% domination! Think of the last game you played on the go, was it Angry Birds, or Cut the Rope, it was probably on your phone or tablet. No wonder they have taken over the market almost over night. Flurry goes on in saying:
The most striking trend is that iOS and Android games have tripled their market share from roughly 20% in 2009 to nearly 60% in just two years. Simultaneously, Nintendo, the once dominant player, has been crushed down to owning about one-third of market in 2011, from having controlled more than two-thirds in 2009. Combined, iOS and Android game revenue delivered $500 million, $800 million and $1.9 billion over 2009, 2010 and 2011, respectively.
While the data for the remaining two months have been projected, the results are very clear. Having free or low-cost games easily available for users on the mobile platforms, iOS and Android have allowed for this growth by insuring entertainment is only a tap away.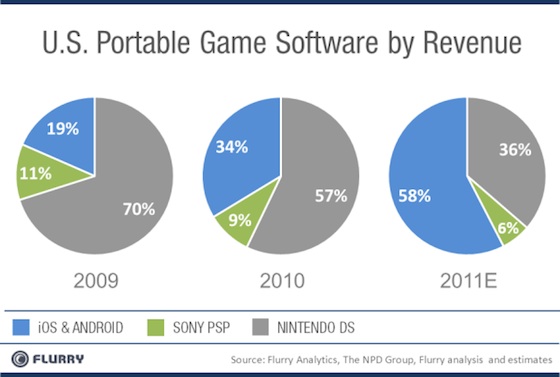 Sony and Nintendo's resistance to bring their games to third party platforms may be one of the many reasons we see their usage shrink at an alarming rate. Nintendo has posted a loss each fiscal quarter this year, most likely tied to the lower than expected sales of their Nintendo 3DS. If Nintendo wishes to still remain competitive in the mobile gaming market, they may have to let Mario Kart or Donkey Kong come to the Apple or Android markets, which would be awesome!