And here we go! Gameloft's latest title 'Modern Combat 4: Zero Hour' is now available for iPhone, iPad, iPod Touch and Android. The game is available in the App Store for iOS devices, and the Play Store for Android devices.
Modern Combat 4: Zero Hour is now the best online multi-player FPS experience you can get on a mobile device. That's not all though, because Gameloft has given the new installment the best graphics you've ever seen on a mobile device. Thanks to the new Havok Engine used in the development of this game, it gets realistic graphics and an amazing gameplay. The most important feature with all MC titles has been the multi-player mode and this one gets an all new improved multi-player mode. Watch the launch trailer below:
The game is set in an post nuclear disaster world, where you, along with your team must rescue world leaders from a terrorist group. If you ever get bored of being the hero, you can also play as the villain, Edward Page. There is different locations around the world to play in and you can also use the all new tactical movement system to win the game. Modern Combat 4 additionally has improved sound and as I've already mentioned, amazing console-like graphics. The voice acting was actually performed by a Hollywood studio.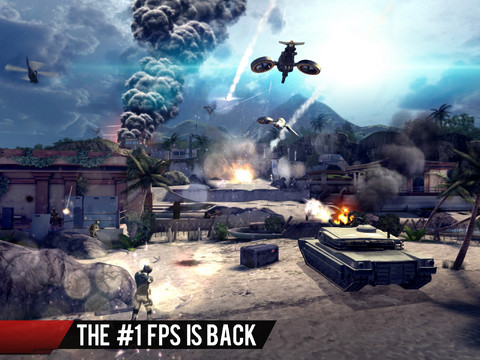 Modern Combat 4 also has a completely redesigned multi-player mode. There's a new load-out system, over 20,000 weapon arrangements, new specialization system, new skills and an all new ranking system. No wonder they're calling it the best multi-player FPS game on a mobile device. The game also comes with certain problems as well, which I'm sure you may have experienced in previous MC titles.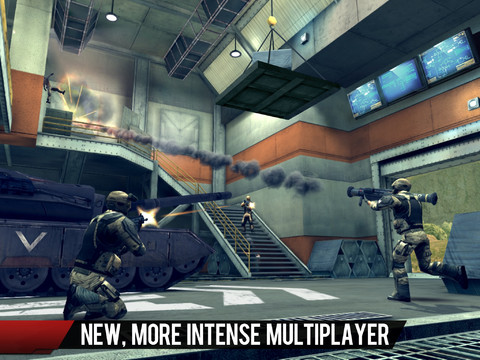 The game is available only on iOS and Android. Newer iOS devices such as the iPhone 5, iPad Mini and the iPad 4th generation will run this game fine and utilize all the special effects. Those with older hardware may experience the occasional hiccup and see a reduction in graphics. It's currently available in the App Store for $6.99. Android version should be out soon.
Download Modern Combat 4: Zero Hour for iPhone, iPod Touch and iPad [iTunes Link]
Download Modern Combat 4: Zero Hour for Android [Google Play Store Link] * Link coming soon*