It was just yesterday that Microsoft released the Office for iPad suite on the App Store. The suite includes Word, Excel and PowerPoint for iPad and all of them are on top of the App Store charts already. The trio is followed by Microsoft's newly revamped OneNote app for iPad.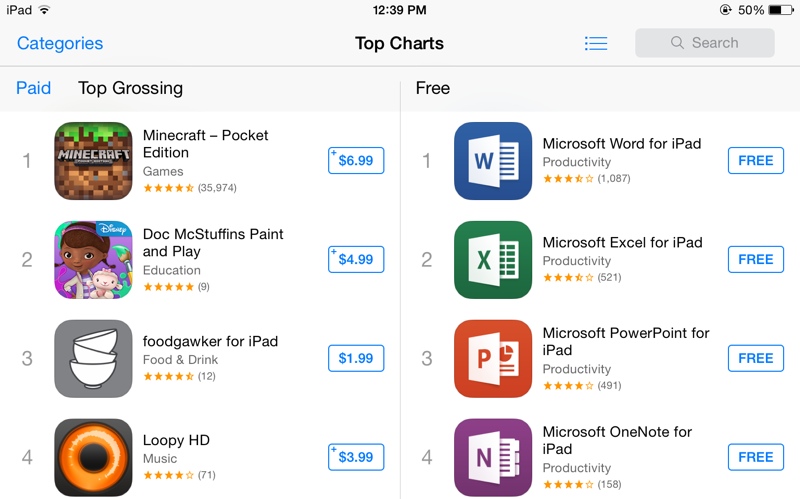 After years of waiting, Microsoft's Office apps were finally released for the iPad early yesterday. However, many believed that it was too late and that iPad users have already made the move to alternative Productivity apps. By the looks of where the newly released Office for iPad apps are in the App Store charts, that doesn't seem to be the case.
The Word, Excel and PowerPoint apps are free to download on the iPad. Nevertheless, an Office 365 subscription costing $9.99 is required to unlock the full potential of these apps. A cheaper $6.99 per month subscription will also be available later on. Microsoft is making some money then, as Word for iPad is number five on the top grossing app chart, while Excel is twelfth. Apple is taking home 30 percent of the earnings for each subscription sold.
Microsoft also announced yesterday, that their Office Mobile is going to be free for Home use. This means that you don't need an Office 365 subscription to edit or create documents.
Has anyone downloaded the Office for iPad apps yet? Tell us what you think of them.