It's time to suit up as Iron Man and take down the evil forces of A.I.M and super villains. The official Iron Man 3 game for iOS and Android has finally been released on the respective app stores. The movie is releasing on theaters around the world today and you can play as Iron Man after watching the movie.
The game adopts the popular endless runner strategy, but since you are Iron Man, you're mostly flying and destroying obstacles/enemies and super villains. Your job as Iron Man, is to take out the rising A.I.M forces and four villains from the comics namely: Crimson Dynamo, Ezekiel Stane, Living Laser, and the mighty M.O.D.O.K.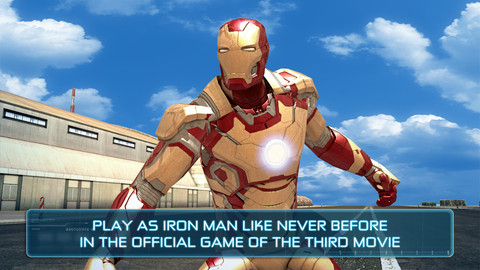 Iron Man 3 for iOS and Android features 3 different locations such as Malibu Shores, New York City and China. The battles take place mid-air and you get to take down enemies in one-on-one fights. You also get full control of Stark Industries and can customize/upgrade and use up to 18 different suits such as the Mark II, Mark 42, Silver Centurion, etc. to battle enemies.
In game graphics and destruction looks pretty good and hopefully there won't be a lot of cash spending, since this is a freemium title. Check out the launch trailer for Gameloft's Iron Man 3:
Gameloft has released the game on both iOS and Android, so most smartphone users will be able to play the game. On iOS, Iron Man 3 is a universal download so it works well on both the iPhone and iPad. You can download it from the links below.
Download Iron Man 3 for iPhone, iPod Touch and iPad [iTunes link]
Download Iron Man 3 for Android [Play Store Link]