iPhodroid For Windows Is Finally Released! [Tutorial + Download Link Included]
Well, only three days after the expected release date we finally see iPhodroid for Windows released. Sergio has fixed the windows vista x64 dll issue and now you can install Android on your iPhone 3G in one click of a button. Unfortunately the only iPhone supported by this new iPhodroid Windows version is the iPhone 3G. The iPhone 2G should be supported soon, once Sergio has time to port the 2G openiboot to windows. Take a look at the official status below…
Sergio Mcfly – "YES! It's today. Gotta tell you Im so thankful for everyone to be so patient and understandable for this Release. The delay was necessary because I made everything for do not mess up your computer and despite Microsoft Windows7 64bit is very tough to accept an un-certificated DLL, I found a very good safe way to run the App without installation and no hassles. All on-the-fly and in one single click, 1SHOT Yeah!! and now it runs on fine over XP and Vista (i386 and x64). I hope all of you help me to keep this Project alive; I never ever thought that this could be this BIG as it is. Thanks everyone and God bless!"
We will provide a quick tutorial for install android on your iPhone 3G in the Windows operating system.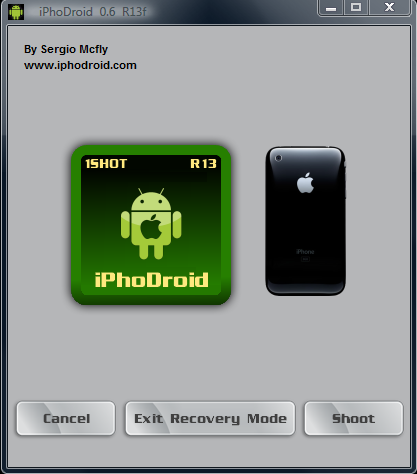 How To Use iPhoDroid For Windows
Step 1) - The first thing you will need to do is jailbreak you iPhone 3G with RedSn0w. Yes, you must use redsn0w to jailbreak your iPhone before you can use iPhodroid. If you jailbroke you iPhone with jailbreakme, pwnage tool or anything else you will need to re-jailbreak with RedSm0w. Tutorial here…
Step 2) - Once you have a redsn0w jailbroken iPhone you will need to download iPhodroid for Windows.
Step 3) - Now once you download iPhodroid for windows, extract it to your desktop and double click on the iPhoDroid.exe!
Step 4) - Once iPhodroid is up and running, plug your iPhone into your computer via USB cable. Once your iPhone is plugged in, close iTunes if it launches and then click the shoot button. This will begin extracting all the necessary files on your iPhone.
Step 5) - iPhodroid will now place your iPhone into recovery mode. Once your iPhone is in recovery mode, you will get the OpeniBoot splash page with different options (Apple, Android, Install, Uninstall). Use the volume buttons to highlight the "Install" option and then then tap the Home button to select it.
Step 6) - Once you click the install button, some code will come up on your screen and then your iPhone will reboot running the Android OS! Everytime you reboot your iPhone you can choose to now run Android or the iOS operating system.
As you can see installing android on your iPhone 3G is one easy process! Let us know your thoughts about iPhodroid for windows!
Make sure you stay subscribed through our social media feeds, so that you never miss a beat, by liking us on Facebook, following us on Twitter and joining our circle on Google+.
Hey, you! Join the iJailbreak Insider for weekly newsletters, Jailbreak alerts, contests and more. (No spam, we promise)