WhatsApp Messenger is a popular cross-platform mobile messaging application that allows you to send messages without having to pay for costly texting plans. Even if you have unlimited texting, WhatsApp can be useful to text those who live in different countries.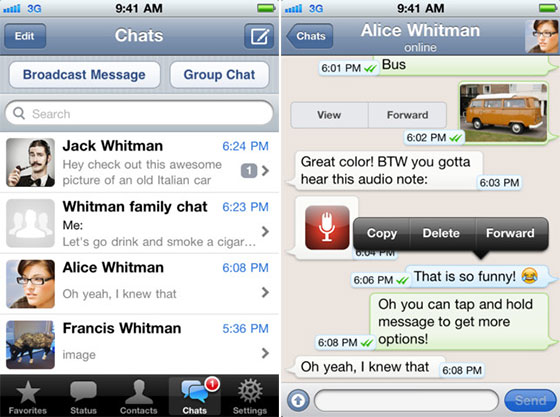 WhatsApp Messenger is a cross-platform mobile messaging app which allows you to exchange messages without having to pay for SMS. WhatsApp Messenger is available for iPhone, BlackBerry, Android, Windows Phone and Nokia and yes, those phones can all message each other! Because WhatsApp Messenger uses the same internet data plan that you use for email and web browsing, there is no cost to message and stay in touch with your friends. In addition to basic messaging WhatsApp users can create groups, send each other unlimited images, video and audio media messages.
The developers WhatsApp Messenger have recently tweeted that you can get WhatsApp Messenger for the iPhone for free for a limited time! There is no telling how long a "limited time" is so you better get downloading the app before it is too late and you end up having to pay for it.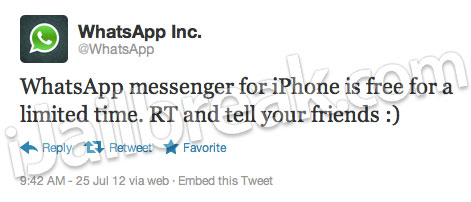 You can use the link shown below to download WhatsApp Messenger for iOS for free. Even if you don't necessarily plan on using it much why not download it in case you find yourself wanting the app in the future?
Download WhatsApp Messenger for iPhone [iTunes App Store Link]
What do you think of WhatsApp Messenger? Did you download the app while it is free? Share your responses and further thoughts in the comments.