A New Study Shows That iOS Apps Crash More Often Than Android Apps
This was a bit of a shocker for me, and I'm sure you're thinking 'What?' in your head right now. Yes, it is true. According to a recent study by a mobile app monitoring firm called Crittercism, iOS applications crash more often than Android.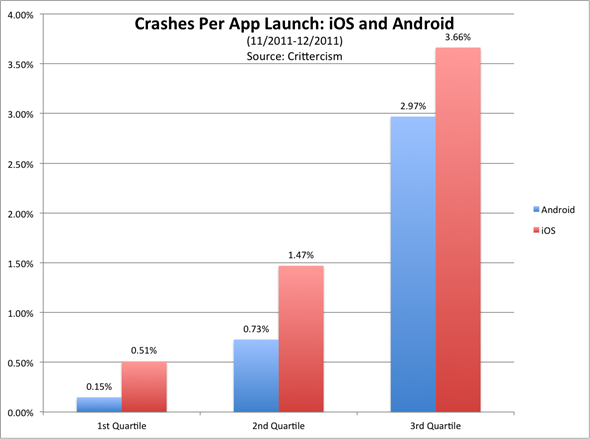 Very surprising isn't it, but after you've read the statistics and reports, I doubt if you would argue about it. This study was conducted during the first week of December, when Apple released iOS 5.0.1 to tackle the iPhone 4S battery issues. The study also points out that this version of iOS caused a lot of app crashes than any other. Developers may, however, argue that that number is because iOS 5.0.1 is pretty new in the field. Also, most apps haven't yet been updated for the latest iteration of iOS. But, what is shocking, is that even older iOS versions such as 4.2.1 and 4.3.3 caused a lot of app crashes.
The test was conducted using about 215 millions apps on 23 versions of iOS and 33 versions of Android, which gave out some pretty bad numbers for iOS. Check out some of the graphs from this report below and see for yourself;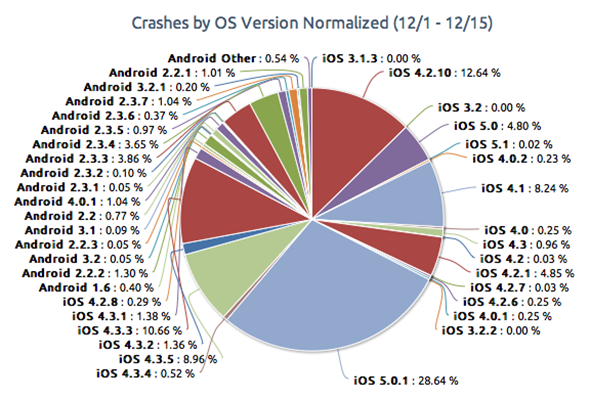 Also, the iPhone experiences a lot more number of app crashes than any other iOS device at 74.41 percent, with the iPod Touch (14.87 %) and iPad (10.72%) trailing behind.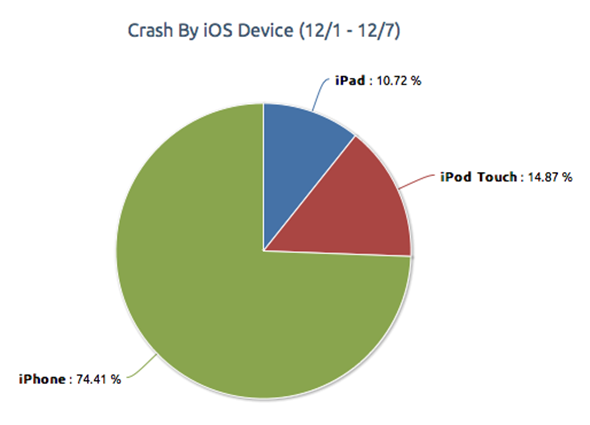 I for one, did not see this coming. I've been an Apple iPhone user for over a year and most certainly haven't faced a lot of app crashes. Yes, jailbreaking did have its effects, but it wasn't nothing to worry about. I've used Android phones, even own one and have faced a lot more of the frequent app crashes than on iOS. Thus, I don't really know what to do with this report. Perhaps all the iOS devices they used during the test were flawed?
What do you think? Have you faced a lot of app crashes on your iPhone? 
[Via Forbes]
Make sure you stay subscribed through our social media feeds, so that you never miss a beat, by liking us on Facebook, following us on Twitter and joining our circle on Google+.
Hey, you! Join the iJailbreak Insider for weekly newsletters, Jailbreak alerts, contests and more. (No spam, we promise)