If you have ever wondered just what it takes to get an app into the top 10 listings then you will be glad to know Distimo (via Tuaw) has released a report on the matter. In order for an app to reach the top 10 paid apps on the Apple App Store, an  needs 4,000 downloads per day, while earning a spot on the top grossing charts needs $47,000 per day.
Although this may seem like some steep numbers that aren't achievable by just anyone, getting into the top 50 downloaded apps is a little easier. In order to be included in the top 50 paid apps an app needs to be averaging about $12,000 a day.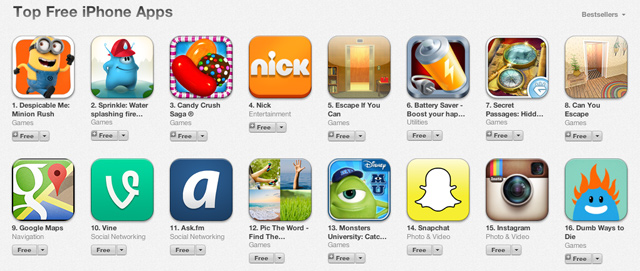 As for free applications the number of downloads needs to be even higher. In order to make it in the top 10 free apps, an app needs to average 72,000 downloads per day. To be included in the top 50 apps this number drops down to about 23,000 per day.
There was a ton of other interesting statistics shared in the report that we suggest you check out. This includes Thursday being the slowest app download day and Saturday being the highest, along with the difference in revenue between Google Play and the iTunes stores.