Are you bored with Temple Run 2? Well, here's something new for you try. Imangi Studios has tied up with Disney to release Temple Run: OZ, a game promoting the film 'Oz The Great and Powerful'. Temple Run 2, when released, saw much popularity and was download millions of times in the first few days. Will this new spin-off see the same level of success?
Temple Run: Oz features environment from the movie, obviously, such as the Yellow brick road and plenty of others. You still have to escape the crazy monkeys, which can now fly, and it still is an endless-runner. You can also get into a hot-air balloon and do your thing. There are many environments, which change as you run further and there are plenty of places to explore. Collect coins as you run and you can buy power-ups and unlock challenges.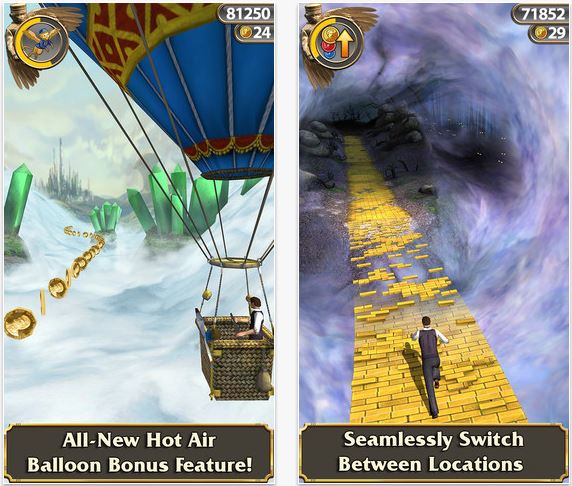 You will be playing this game as the powerful Oz, who's pretty to fun to play. Overall, the game is exactly like the previous one, except for the new environments and the hot-air balloon ride. Unlike previous titles from Imangi Studios, Temple Run: Oz isn't free on iOS. It'll cost you $0.99 to download it onto your iOS device, but you do get 1500 coins for free. This offer is only valid today, so go hurry. It's available for free in the Google Play Store for Android devices.
Download Temple Run: Oz for iPhone, iPod Touch and iPad [iTunes link]
Download Temple Run: Oz for Android [Play Store Link]