Mobile gamers eager to start playing Grand Theft Auto: Vice City on iOS and Android devices don't have to wait much longer. Rockstar Games just announced that the title will be available for both iOS and Android devices on December 6th.
Grand Theft Auto: Vice City 10th Anniversary Edition is a game that celebrates the 10th Anniversary of the popular open world game. GTA: Vice City turned 10 years old on October 29th and Rockstar Games previously announced that a mobile version of the game will be arriving before the end of 2012. In a blog post, it was confirmed that the game will be available for download in the App Store and Google Play Store on December 6th.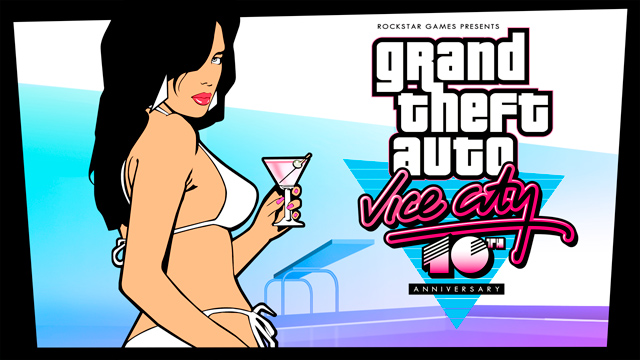 According to Rockstar Games, GTA: Vice City 10th Anniversary Edition will include better character models, lightning effects, improved touch controls, sharper firing/targeting and much more. The game will also have platform specific enhancements. Native high-resolution support means that it will look great on all new iOS devices with a Retina display.
The game will not be compatible with all iOS and Android devices, so below is a list of all the devices that you can play this game on.
Apple iOS Devices: iPad, iPhone 4, 4S & 5, iPod touch 4th & 5th Generation
Android Phones: Motorola Razr, Razr Maxx, Razr Maxx HD, Motorola Atrix, Motorola Photon, Motorola Droid Bionic, HTC Rezound, HTC One X, HTC One S, HTC Evo 3D, HTC Sensation, HTC Droid Incredible 2, Samsung Galaxy Nexus, Samsung Nexus S, Samsung Galaxy Note 1 & 2, Samsung S2, Samsung Galaxy R, Sony Xperia Play, Sony Xperia S, P, T & TL, Sony Walkman Z Series Media Player, Samsung Galaxy S2, Samsung Galaxy S3, Google Nexus 4.
Android Tablets: Acer Iconia, Asus Eee Pad Transformer, Asus Eee Pad Transformer Prime, LG Optimus Pad, Medion Lifetab, Motorola Xoom, Samsung Galaxy Tab 8.9 / 10.1, Samsung Galaxy Tab 2, Samsung Galaxy Note 10.1, Sony Tablet S, Sony Tablet P, Toshiba Thrive, HTC Flyer, Google Nexus 7, Google Nexus 10.
Rockstar Games also announced that they will be selling GTA: Vice City 10th Anniversary Edition for $4.99 on both iOS and Android App Stores. GTA fans, it's time to sharpen your mobile gaming skills, because this is one game that you don't want to miss.