Yahoo recently released an update to their Mail app on iOS, and now they've done the same with the Flickr for iOS app. The Flickr app for iOS hasn't been updated since its release and no one really cared, because it wasn't very well designed. The company has pushed out a new and major update for the Flickr iOS app and it's amazing to say the least.
Flickr for iPhone and iPod Touch gets a complete redesign, camera filters similar to Instagram and Twitter and a couple of other cool features. The most important one is undoubtedly the redesign of the app, which gives it the look and feel it deserves. Flickr's new app is fast, basic, beautiful and is much improved compared to the previous one. You can take any number of photos and upload them to your Flickr account, edit them using the in-built camera filters, crop, correct etc.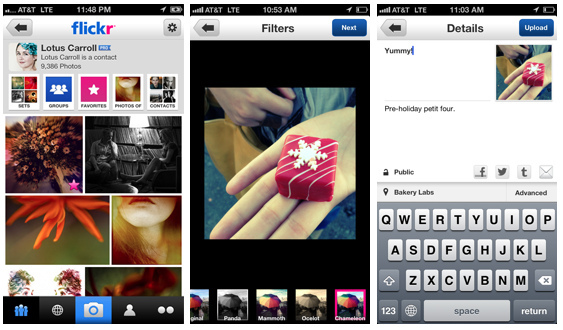 Yahoo has done a very good job with this update and concentrated more on photos, sharing and people. You can see all your photos right on the home page, tilt your iPhone to see it in fullscreen, Pinch to zoom, comment, like photos and find out all the details about a photo such as place, time and camera used. Create groups, sets, tag people and add places using Foursquare. Watch the awesome introductory video below:
The Contacts tab and Explore tab have been improved as well, giving you more. With the new Contacts tab, you can keep yourself updated with the latest photos from people you follow. Scroll through a contact's timeline easily and comment, like the ones you think are amazing. Groups is finally available on the iPhone and iPod Touch, a feature that was only present on the web. You can upload, share, comment and like all the photos in a Group.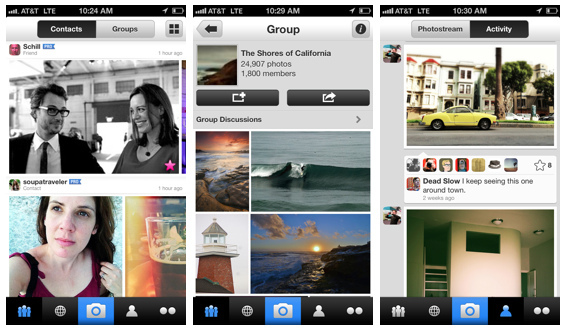 The Explore tab is another new thing that photographers shouldn't miss. Explore your way through some of the best photos from all around the world, every day. With all the new features and Instagram-like filters, it looks like Yahoo wants to go all mobile. Twitter too released new photo filters to their service recently to compete with the popular photo sharing service Instagram. Flickr for iOS is available for free in the App Store. Try it out and let us know what you think of the new Flickr for iOS in the comments.

Download Flickr for iPhone and iPod Touch [iTunes Link]