One of the many cool new features in iOS 8 is the availability of third-party keyboards that can be installed through the App Store. Apple's stock keyboard did get a new QuickType feature, but there are a lot of other keyboards out there that are far better. Companies such as Swype, Swiftkey and Fleksy will all be bringing their customizable keyboards to iOS 8.
Fleksy is the first one to tease its iOS 8 keyboard in a tweet recently. The Fleksy keyboard is a simple and easy to use iOS keyboard replacement and from the image below, it looks like it won't have a dictation button. This is just the beta version though, so the final one could be better.
If you're a developer and have already installed the iOS 8 beta, you can start using the Fleksy keyboard as well. There's a beta that you can download from Flesky's website.
Swype and SwiftKey did confirm that they're both working on keyboards for iOS 8. These keyboards will be available when iOS 8 is released to the public. Developers can now start working on their keyboards as Apple has already seeded both the iOS 8 SDK and the first beta.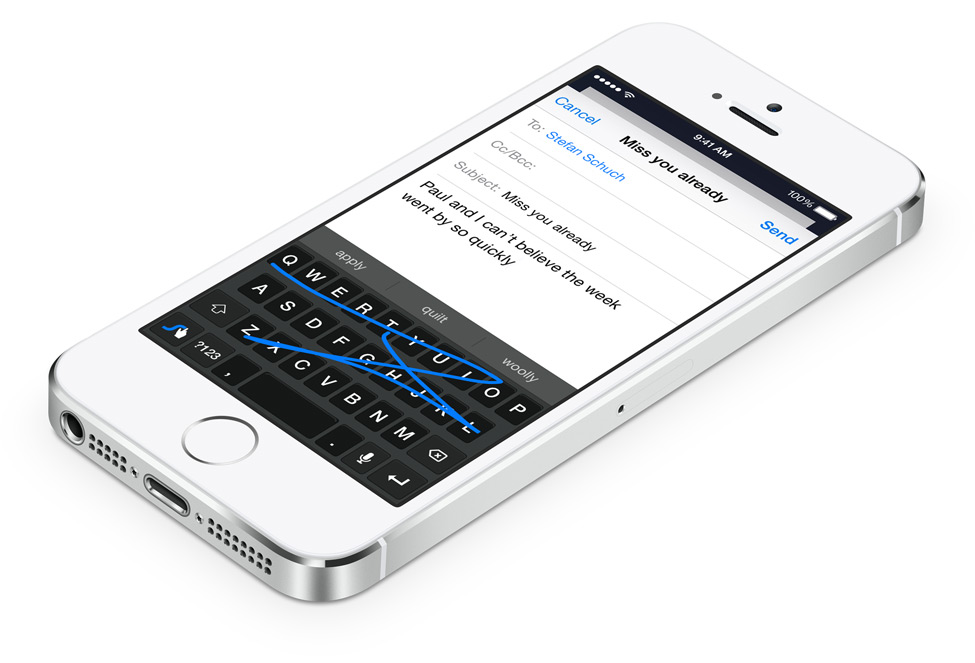 Apple's iOS 8 webpage also shows the Swype keyboard on iOS 8, as seen in the picture above. In an interview with Re/code, Swype and SwiftKey executives confirmed that their respective keyboards are coming to iOS 8. Joe Braidwood, Chief Marketing Office of SwiftKey stated:
"I think it's obviously a wonderful day for anyone who wants to be productive and use iOS devices. We believe we've built a great product that's made it easier to type on touchscreens, and we've got a great community of Android users to prove it. We can't wait to extend that to iOS. Ultimately, it means people have more choice, and we're very excited about that."
Aaron Sheedy, V.P of Product Marketing at Swype said the following in a phone interview with Re/code:
"Not surprisingly, I couldn't be more excited to bring Swype to iOS users. Our keyboard has been deployed on a billion devices across the world over the last five years, and that's allowed us to build up a great language model, not only using our own technology, but also learning from our users, so our accuracy is quite good."
Other keyboards will also be making their way into iOS 8, so users will have plenty to choose from.