The App Store has been particularly bad lately for featuring scam applications. Just recently we have seen fake Cydia tweaks appearing in the App Store like Activator and SBSettings. Scam applications don't always come in the form of Cydia tweaks however, sometimes they are consoles games, in today's case, Halo 4.
Today a developer by the name of Toan Tran is trying to pass off the official version of Halo 4 for iOS in the App Store. According to the app's description this is the iPhone/iPad exclusive version of Halo 4. Don't be fooled though, this is simply just a simple chess game in disguise… and a very good one at that. The developer has put a ton of work into making the description and even the reviews for the game flawless. There is over 191 five star ratings that definitely make this game look legitimate, but there are a few key things that make this game an obvious fake.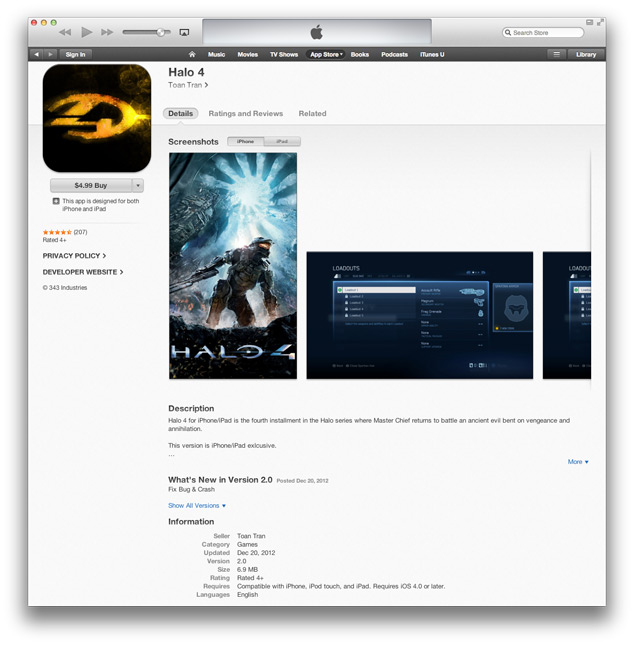 First, the file size, the game is only 6.9MB. If Halo 4 was actually brought to iOS it would be an extremely large game that would sit around the 1GB level. Then there is the obvious seller name — Toan Tran — that instantly classifies this game as a fake. It's rating of 4+ also should ring some bells and finally, if you look at the reviews in more detail you will notice there is quite a few stating this is indeed a scam.
Remember that any big game like Halo 4 will come from the official developers. If you still aren't sure an app is fake or not, look at other applications the developer has created. In the case of Toan Tran, the only other apps he has created is called Live Wallpapers which is another scam.