The Activator Cydia tweak is by far one of the most useful tweaks available because it packs so much functionality. In fact, there are a lot of Cydia tweaks that rely on Activator for activation gestures because it was so well designed. Personally I have used Activator extensively in the past when my home button was broken on my iPod Touch, and more recently on my iPhone to switch songs using the volume buttons while I am driving.
Now an Activator application has made its way to the App Store and just like a lot of "Cydia tweaks" that somehow make their way on to the App Store this one is a fake. The funny thing about the Activator application however, is that it is marketed like the real thing. The developers of this application did not even try to make it obvious this app is not like the actual Cydia tweak Activator.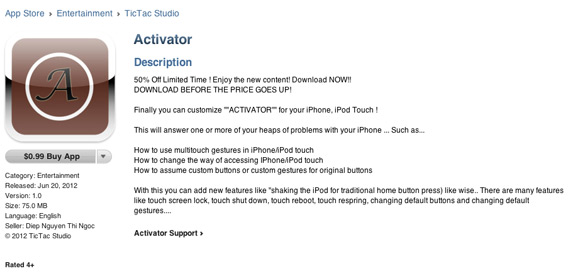 Although for the more technologically inclined this would probably not fool you because Apple would never allow something like this into the App Store. It has still fooled a lot of people, and as you can see by the reviews people are not impressed.
As such do not be fooled by this fake application, like a lot of other people have been. Did you end up purchasing this application only to find out it was a scam? Share your responses and further thoughts in the comments section below.