Facebook has been working on a Snapchat competitor for a while now, after their previous attempt Poke failed. The company even tried to buy Snapchat, but that deal didn't go through. Hence, Facebook used its own Creative Labs team and has come up with Slingshot.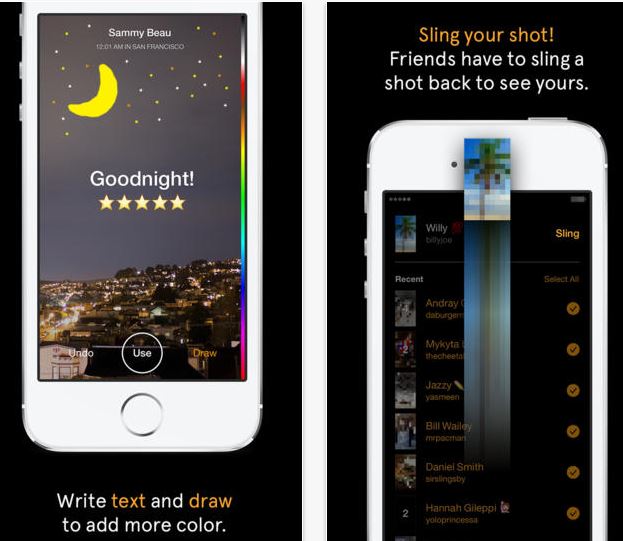 Slingshot is similar to Snapchat, as it lets you instantly share self-destructing photos and videos with your friends, but it's also completely different.
When you first install and open Slingshot you'll see the similar take a photo page. All you have to do is take a shot, maybe write/draw something on it and select who you want to send or sling it to. Here's the deal though. Once your friend gets your shot, they can't view it unless they send a reply. They'll need to send you a reply to your first shot which they haven't opened, to be able to view it. Same goes for you. Confused? Here's Facebooks explanation:
Slingshot lets you quickly share moments — little and big — with lots of people at once. Shoot a photo or video of what you're up to and sling it to a bunch of friends. They won't be able to see your shot until they sling something back. Tap on a shot to react, or simply swipe it away.
According to Facebook, not seeing a message without replying back would make users more engaging. Once you unlock a shot, you can quickly reply using the React button or you could just sling it away and go on with your normal life. Here's the introductory video for Slingshot:
Slingshot is Facebook's first app that doesn't require you at have a Facebook account to login, as it uses your phone number. There is an option to connect with your Facebook buddies though.
You can download the app from the App Store or the Google Play Store for free. Try it out let us know what you think of it. Is it a Snapchat killer?
Download Slingshot for iPhone, iPod Touch and iPad [iTunes Link]
Download Slingshot for Android [Play Store Link]