Last week Facebook released a major update to its iOS app, which brought along new features like easier photo-sharing and improved messaging. This week Facebook has released another update to its iOS app that adds a new Share button, lets you tag friends and more.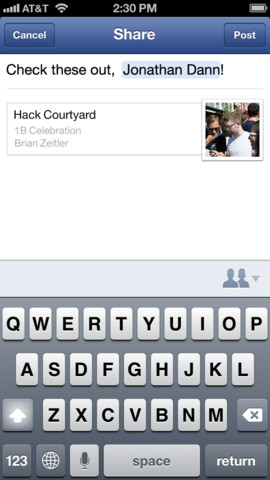 Facebook version 5.2 for iOS finally lets you share posts, similar to the retweet button on Twitter. Like a story, video or photo? Just use the new Share button to share it on your wall, with friends etc. The new version also lets you tag your friends in posts, comments and photos, which is something a lot of users have been asking for awhile now.
Apart from that you can use Emojis when chatting with a friend via Messages. Your feed can be sorted based on Most Recent and Top Stories by using the button next to News Feed on the left sidebar. That's pretty much all of the new features. As always, you can update the app via the App Store for free.
Download Facebook 5.2 for iPhone, iPod Touch and iPad [iTunes Link]