Until now developing iPhone apps on windows has been an almost impossible task to do. iPhone apps are generally coded in objective C and require a macintosh computer to run the official Apple SDK. However, now DragonFire SDK is here to solve this problem. With DragonFire SDK windows users can now develop iPhone applications on windows using Microsoft visual C++. This is a real benefit because a lot of people including myself have been interested in iPhone development but do not have a Mac to participate in the official SDK. Your applications will be 100% compatible with the iPod Touch and iPhone and you will not run into any problems with the approval process of your application upon submission to Apple.
If you go to DragonFireSDK.com you will find out how easy developing iPhone applications on Windows can be…
Windows iPhone programming is here and you have a chance to be on the front lines! With DragonFireSDK you can code in C/C++ using Microsoft Visual C, the greatest development tool in the world, using an API that is powerful yet clean and simple. DragonFireSDK's functions call Objective C so your App is esentially written in the iPhone's native language. This means you don't have to purchase a Mac or learn a new language to create a 100% genuine iPhone App on the Apple App Store.
When you program iPhone applications using DragonFireSDK you will be coding your application in C++. When you are finished creating your application DragonFireSDK will automatically convert it to the official Apple development language, objective C. The SDK also features an iPhone simulator which is available to jailbroken iPodTouchs's/iPhones. This simulator will allow you to test your applications on your iPod Touch/iPhone with ease. Want proof that DragonFire SDK Works?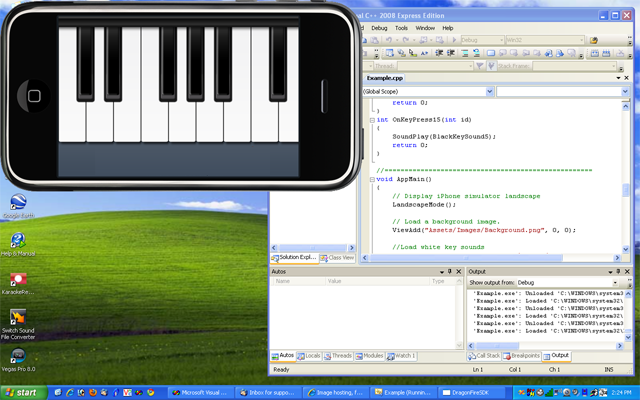 There is already a featured application developed using DragonFire SDK, present in the official Apple App Store. The app is called Unstacker and is free to download in the iTunes App Store. This is only the beginning for Windows users who are looking to develop applications for the iPod Touch and the iPhone. DragonFire SDK looks like a promising development tool and as of right now is still in beta. If you are interested in using DragonFire SDK you will need to apply for a beta testing position. However if you would like more information go to their website.