Tweetbot is probably the most popular alternative to the official Twitter app, and it just got better. Developer Tapbots has just updated the app bringing a number of awesome features including iCloud sync for timelines, direct messages and more.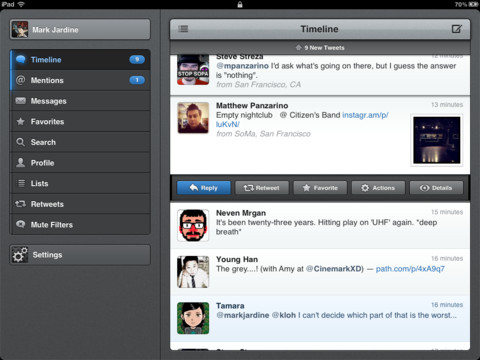 Here is the full list of features and enhancements included in version 2.2:
– iCloud Integration (Must be logged into iCloud)
– Mute filters synced across instances of Tweetbot
– DM read status synced across all instances of Tweetbot when iCloud is selected for Sync
– Timeline positions are synced across all instances of Tweetbot that have iCloud selected for Sync
– Better handling of iTunes links along with thumbnail previews
– Youtube links provide thumbnail previews
– Fixed iPad retina image preview in the tweet detail
– Pinch to close image view on iPad
– Bug fixes
I am personally a huge fan of the new iCloud integration. The feature allows you to switch between iDevices and read your timeline from where you left off. For example, if you are going through your timeline on your iPhone but than switch over to your iPad, the new integration will let you start reading your timeline from where you left off on your iPhone! The feature also marks all of your direct messages as read on your iPad if you read them on your iPhone. No more having to go through the same things twice!
If you haven't already, head over to the App Store and check the app out! Let us know what you think in the comments section below!
Download Tweetbot for iPhone and iPod Touch ($2.99) [iTunes link]
Download Tweetbot for iPad ($2.99) [iTunes link]