Pitfall, The Classic Arcade Game, Is Now Available For Your iPhone, iPod Touch And iPad
Pitfall first made its appearance in September 1982, on an Atari 2600. Released by Activision, this was the 2nd best selling game after PacMan on the Atari platform. And now, 30 years later, it has been released for iPhone, iPod Touch and iPad and available in the App Store.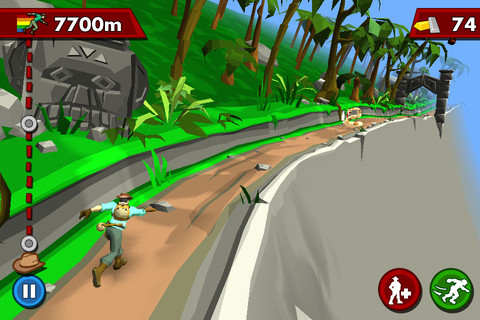 If you remember (of course you do) Pitfall features the adventures of Pitfall Harry, who has to escape the treacherous jungle filled with obstacles like quicksand, logs, scorpions, crocodiles etc. It's pretty much the same story in the iOS game and also uses the Temple Run inspired free-runner gameplay. Unlike Temple Run, Pitfall has a lot of different scenes and obstacles and you also get to ride a bike and swing on vines.
Escape the wrath of an angry volcano while collecting ancient treasures in PITFALL!, an adrenaline-fueled, free-running adventure set in a deadly jungle with twists and turns that will always keep you on your toes. As the iconic Pitfall Harry, test your skills by racing through jungles, caves and native villages while avoiding death-defying obstacles such as fiery volcanic flames, tumbling ancient artifacts, and narrow cliff side pathways. Challenge your reflexes by jumping, sliding, and using your deadly whip to take out classic PITFALL! foes like rattlesnakes and scorpions while avoiding the death grip of a crocodile's jaw as you swing across ravines. Make sure to always keep a watchful eye as danger lurks around every corner! 
Activision has truly done a great job with this one, and it will surely remind you of the golden Pitfall days. The game also has cinematic camera angles that give it a much better feel than other similar genre of games. Check out the trailer below.
Pitfall for iOS works on the iPhone, iPod Touch and iPad. It's currently available in the App Store for $0.99 and is definitely worth a try, especially if you've missed playing Pitfall.
Download Pitfall for iPhone, iPod Touch and iPad [iTunes Link]
What do you think? Are you going to give Pitfall for iOS a try? Or is it too much like Temple Run? Share your responses in the comments section below.
Make sure you stay subscribed through our social media feeds, so that you never miss a beat, by liking us on Facebook, following us on Twitter and joining our circle on Google+.
Hey, you! Join the iJailbreak Insider for weekly newsletters, Jailbreak alerts, contests and more. (No spam, we promise)