The Android had a scroll down notification bar before it was made available in iOS 5. However, we can't deny the fact that the iOS 5 Notification Center is much better, more customizable and smoother than Androids. Thanks to the jailbreak community, there are tonnes of tweaks that can add some really cool widgets and functionality to the Notification Center in iOS 5. To get something similar on Android, you can try out this app called Notification Toggle.
Notification Toggle is a free Android app that lets you add more system toggles than what comes stock and also adds any of your favorite app(s) to the notification bar. That way, if you ever wanted to access anything, you could just pull down the notification bar and do your thing. Below is a list of all the features that this app provides and you can tell that it's one very useful app that you should have.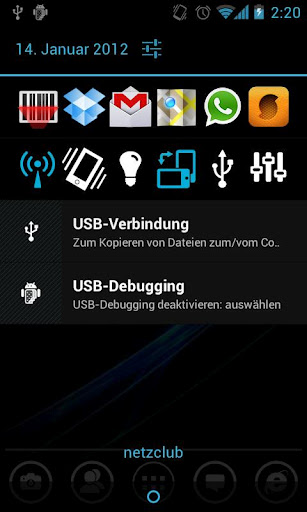 Here's the full list of toggles and shortcuts that this app provides:
– WiFi
– Bluetooth
– Sound / Vibration, Sound / Silent, Sound menu
– Brightness mode / menu / 4 predefined stages
– Screen timeout dialog
– Wake lock
– Rotation
– Flight mode
– Mobile data
– Flashlight (might require TeslaLED)
– Sync
– WiFi- & USB-Tethering
– Music: previous / next / pause
– WiFi settings / advanced settings
– Bluetooth settings
– GPS
– Mobile data settings
– Data usage
– Battery
– Camera
– next Wallpaper (requires WallpaperChanger)
– Lockscreen (requires DelayedLock)
– favorite apps & shortcuts
Best thing about the app is that it's totally free and works with a wide range of Android devices running on any version above 2.1. There are other apps out there that have similar features, but this is one of the best and has the most number of settings/toggles/shortcuts etc. You can now quickly access Facebook, Twitter, Camera, Messaging and more from the scroll down notification tray. Plus, the toggles and everything look really nice. Try out this amazing app and tell us what you think of it.
Download Notification Toggle for Android [Google Play link]